CONTENTS


DONNER PASS ROCK CLIMBING
AUTUMN ICE CLIMBS
TECH TIP
SIERRA MOUNTAINEERING
WILDERNESS FIRST AID
AIARE AVALANCHE ED
ASI FACEBOOK



Mimi Vadasz
Adminstrative Director
AMGA Certified
Ski Mountaineering Guide


Bela G. Vadasz
Technical Director
Internationally Licensed
Mountain Guide

Upcoming Programs

Conditions Updates

Tech Tips
Sep 7, 2012
Greetings Friends of ASI:



SEPTEMBER & ROCKTOBER


Autumn is the magic, quiet climbing season. It's the peaceful time with the summer hub-bub past. We're all usually climbing at our best, strong from the summer season. Come join us for your best routes of the season, before the snow begins!



DONNER PASS ROCK CLIMBING
: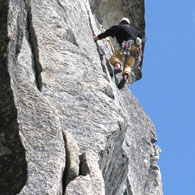 The ASI Rock Climbing Program is a unique one-of-a-kind total progression of simple and convenient one-day courses to teach all aspects of recreational rock climbing. Our team of Instructors and AMGA Certified Guides, many with decades of experience, sincerely care about your level of enjoyment. They have put together a progression of lesson plans to take climbers from the first time touching rock onto the skills necessary to safely climb long routes and famous big walls.

Rock Anchoring Clinic
Learn to place gear and build top-rope and top-of-the-pitch belay anchors.


Sep 15, 2012

(Sat)



Learn to Lead
Now it's time to take the sharp end, place gear and lead.


Sep 16, 2012

(Sun)



Sport/Face Climbing
Face climbing technique improvement, lead and lower on sport routes.


Sep 16, 2012

(Sun)





AUTUMN ICE CLIMBS
:
The snow that remains in the tight, North facing couloirs through the summer freezes into rock-hard alpine ice, creating superb climbing conditions in the fall. Many of these couloirs are in great shape right now and will be until the first snow powders them up, starting the year-round cycle all over again.

V-Notch Couloir, Polemonium Peak


Sep 21-23, 2012

(Fri-Sun)



North Peak, North Couloirs


Sep 15, 2012

(Sat)




Oct 7, 2012

(Sun)



The Dana Couloir


Sep 16, 2012

(Sun)




Oct 6, 2012

(Sat)





TECH TIP - The Standard Harness Kit
:
By Bela G. Vadasz
Whether for Rock, in the Alpine or Ski Mountaineering, a Guide will usually have the same base-line kit of items. It's a super versatile, minimum set of gear to equalize anchors at a belay stance, facilitate a rappel with a self-belay, create a lowering system as well as a raising system with a 3:1, 5:1 or 6:1 mechanical advantage.

Read on >




SIERRA MOUNTAINEERING
:
We have taken over 50 years of climbing in the High Sierra and 35 years of teaching and made a special new 2-day course on Tioga Pass called Sierra Mountaineering. Making the best use of your precious time, it fits the most important rock and snow climbing skills into a practical, useful and fun weekend format in the High Sierra. It's destined to become our new "favorite" course.

Sierra Mountaineering


Sep 29-30, 2012...

(Sat-Sun)





WILDERNESS FIRST AID
:
Wilderness First Aid - WFA (18 hours) is an entry level, 2 day course for those who are involved in wilderness activities. This course is the choice of many recreational skiers, climbers and mountaineers. Basic first aid skills will be taught in the classroom and practiced hands-on in the wilderness environment. This course also meets the requirements for a WFR Refresher.

WFA


Nov 17-18, 2012

(Sat-Sun)





AIARE AVALANCHE LEVEL 1
:
This is a thorough, "stand alone" course that emphasizes decision making skills. It is much more than just an avalanche course. It introduces many safety and risk management techniques just like those used by professional AMGA certified and IFMGA Internationally Licensed Mountain Guides, but are useful to recreational skiers as well.



Signup before October 1st, and get last season's price ($425)



AIARE Avalanche Level 1


Dec 8-10, 2012

(Sat-Mon)




Dec 15-17, 2012...

(Sat-Mon)





ASI ON

:
Check out the ASI Facebook Page for the latest Photos, Trip Reports, Tech Tips and learn about the Routes We Guide. Please contribute too, as we love to see you post your own photos and comments!





We look forward to climbing and skiing with you and helping you achieve your mountain dreams. If you can't find the answer to a question on our website, don't hesitate to give us a call.

Sincerely,
Bela & Mimi Vadasz - ASI Directors
Alpine Skills International
bela@alpineskills.com
530-582-9170



Operating on a non-discriminating basis under Special Use Permit, Inyo National Forest, Tahoe National Forest, Shasta/Trinity National Forests, Eldorado National Forest, Sequoia/Kings Canyon National Parks.