CONTENTS


FAMILY ROCK CLIMBING
MT SHASTA CLIMB
TECH TIP
SIERRA MOUNTAINEERING
CLIMB MT. WHITNEY
KIDS ROCK CLIMBING
ASI FACEBOOK


Mimi Vadasz
Adminstrative Director
AMGA Certified
Ski Mountaineering Guide


Bela G. Vadasz
Technical Director
Internationally Licensed
Mountain Guide

Upcoming Programs

Conditions Updates

Tech Tips
August 13, 2015, 2015
Greetings Friends of ASI:



SUMMER HAS BEEN WONDERFUL!


The weather is superb and summer activities are abound. The rock climbing on Donner Pass is in full swing and the climbing conditions on , Mt. Whitney and Tioga Pass are ideal. It's time to get out, climb and learn some great outdoor skills with your friends and family!



FRIENDS & FAMILY ROCK CLIMBING
:
Take the family out to try rock climbing! This 1/2 day of climbing with your family of 3-4 can be arranged for novices learning the basics, intermediates climbing in the mid-grades or advanced climbers top-roping routes as hard as you choose.



Cost:

$269
1-4 people, all gear included
8:30am - 12:00pm or 1-4:30pm

Family Rock Climbing Special


Choose your own date





ROCK ANCHORING CLINIC
:
Any rock climber who wants to set up their own anchors, does multi-pitch or wants to learn to lead should take this course. You don't know what you don't know and this class is for everyone. Understand the and learn the safety of your anchors. That is the key to staying safe.

Rock Anchoring Clinic


August 15, 2015

(Thurs)




September 5, 2015

(Fri)




Cost:

$155





CLIMBER'S SELF RESCUE
:
Do you know what to do if your partner is seriously hurt in a leader fall...several pitches up? In this one-day workshop we teach self-rescue techniques improvising with just the gear you normally take on a climb. ASI covers the best anchoring methods, along with raising and lowering systems for a one-on-one situation. This is a must for all climbers!

Climber's Self Rescue
August 16, 2015
September 6, 2015



$165



<

CLIMB MT. WHITNEY
: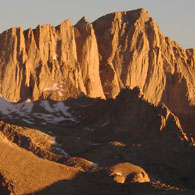 We have spaces available and permits reserved for Mt. Whitney climbs this summer. The Mountaineer's Route, Class 3, is a fantastic 2-day climb that's great for novice and intermediate climbers along with a mountain guide. It's perfect for those looking for a fulfilling, challenging climb.

The East Face and East Buttress Routes, III 5.6, are both truly classic climbs for rock climbers with previous rock climbing experience.

Mt. Whitney, Mountaineer's Route


Aug 22-23, 2015

(Sat-Sun)



Mt. Whitney, East Face


Sept 26-27, 20145

(Sat-Sun)


Mt. Whitney, East Buttress


Sept 26-27, 2015

(Sat-Sun)





TECH TIP: Get Hitched! - Münter/Clove Hitch Part 1
By: Bela G. Vadasz
On a multi-pitch route, we used to tie-in to the belay anchor with a figure eight on a bite. It's a very secure knot but it is difficult to estimate the final length of the rope to be tensioned against the anchor. Lengthening or shortening the tie-in by adjusting the figure eight is hit or miss and much too time consuming.

Another method some climbers use is carrying an additional piece of gear called a daisy chain. It is a sewn nylon sling with bar-tack stitched loops, allowing the climber to choose the correct length by clipping into the appropriate loop. Read on...




OFF SEASON SKIING
: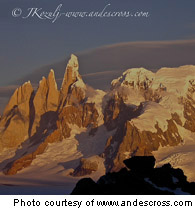 A lot of us didn't get as much skiing in last season as we would have liked. We're thinking of a reverse season trip. We're talking to several people about skiing in South America in Sept/Oct and thinking of putting a couple of trips together.

Ideas include: Portillo (Chile), Bariloche (Argentina) and a ski mountaineering pilgrimage to the Fitz Roy Massif (Patagonia). Please let us know your thoughts and which one interests you.




ASI ON

:

Check out the ASI Facebook Page for the latest Photos, Trip Reports, Tech Tips and learn about the Routes We Guide. Please contribute too, as we love to see you post your own photos and comments!





We look forward to climbing and skiing with you and helping you achieve your mountain dreams. If you can't find the answer to a question on our website, don't hesitate to give us a call.

Sincerely,
Bela & Mimi Vadasz - ASI Directors
Alpine Skills International
bela@alpineskills.com
530-582-9170



Operating on a non-discriminating basis under Special Use Permit, Inyo National Forest, Tahoe National Forest, Shasta/Trinity National Forests, Eldorado National Forest, Sequoia/Kings Canyon National Parks.