CONTENTS


WELCOME BACK WINTER
AIARE AVALANCHE LEVEL 1
AIARE AVALANCHE LEVEL 2
AVALANCHE L1 REFRESH
INTRO TO BACKCOUNTRY SKIING & SPLITBOARDING
SUGAR BOWL BACKCOUNTRY
LIKE OUR FACEBOOK


Mimi Vadasz
Adminstrative Director
AMGA Certified
Ski Mountaineering Guide


Bela G. Vadasz
Technical Director
Internationally Licensed
Mountain Guide



Upcoming Programs

Conditions Updates

Tech Tips
March 4, 2014

Dear Friends of ASI:



Now snow high and low!!!

:
We running everything as normal, finally. Come join us!



AVALANCHE EDUCATION
:
By now we all realize a good level 1 avalanche course is imperative for everyone going out into the backcountry with snow around.

The ASI/AIARE Level 1 has become on of the conrnerstones of the ASI winter program. For over 30 years ASI has been forward thinking with avalanche education embedding a philosophy that judgment-based decision-making can be taught in a way that is appropriate. Our courses are taught by experienced ski mountaineering guides making profesional decisions in the field daily.

AIARE Avalanche Level 1
March 7-9, 2014

(Fri-Sun) (1 spot)


March 21-23, 2014

(Fri-Sun)


March 29-31, 2014

(Sat-Mon)





AIARE AVALANCHE Refresh
: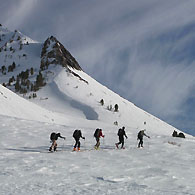 This is the best way to update your previous Level 1 Avalanche Course. We will present annual information updates including new technology and techniques along with new resources for information to keep you current.

The field travel portion of the course presents realistic decision making excercises along with a valuable rescue practice drill including full-scene management with transciever, probe and shovel. We all need to practice!

AIARE Avalanche Level Refresh
March 9, 2014





INTRODUCTION TO BACKCOUNTRY
:
Alpine, Spiltboard & Telemark
This 1-day seminar is perfect for alpine skiers or snowboarders who want to learn to use convertible touring bindings, as well as telemark skiers ready to ski the backcountry. Follow this up the one of our Tahoe Backcountry Ski Tours!

Then look to take Ski Mountaineering Techniques or Sugar Bowl to Squaw Valley Tour.

Intro to Backcountry Skiing
March 8, 2014
March 15, 2014






SKI MOUNTAINEERING TECHNIQUES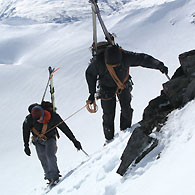 This day of training on Donner Pass adds the necessary skills to prepare for longer, more committing high mountain tours, Such as the Sierra High Route, European Haute Route, Shasta, Alaska, South America or whereever you find yourself.


Ski Mountaineering Techniques
March 23, 2014 ( New Date!!)



SUGAR BOWL BACKCOUNTRY
:
Our workhorse winter program, also known as "Sidecountry", offers endless acres of backcountry terrain off the backsides of Sugar Bowl's summits. Tactfully combining lift use with pleasant uphills (using touring bindings and climbing skins), we connect fantastic downhill runs throughout the day.

This is not only a great day to practice backcountry skills, but also perfect for return skiers and splitboarders to get more of "the goods". This is an action-packed, super fun program that always leaves skiers and snowboarders smiling at the end of the day!

Sugar Bowl Backcountry
March 15, 2014
March 16, 2014
March 22, 2014
March 23, 2014



BACKCOUNTRY ADVENTURE CENTER
Please check us out on Facebook for Daily and weekly Specials and Updates!



.





We look forward to climbing and skiing with you and helping you achieve your mountain dreams. If you can't find the answer to a question on our website, don't hesitate to give us a call.

Sincerely,
Bela & Mimi Vadasz - ASI Directors
Alpine Skills International
bela@alpineskills.com
530-582-9170



Operating on a non-discriminating basis under Special Use Permit, Inyo National Forest, Tahoe National Forest, Shasta/Trinity National Forests, Eldorado National Forest, Sequoia/Kings Canyon National Parks.