CONTENTS


WINTER IS HERE
AVALANCHE EDUCATION
LIKE US ON FACEBOOK
INTRO TO BACKCOUNTRY
SUGAR BOWL BAC



Mimi Vadasz
Program Director
AMGA Certified
Ski Mountaineering Guide


Bela G. Vadasz
Technical Director
Internationally Licensed
Mountain Guide

Upcoming Programs

Conditions Updates

Tech Tips
March 8, 2015

Dear Friends of ASI,



Snow and Sunshine


We are skiing up high, Come Join us!

March brought new snow and the conditions are good up high. The higher you go, the better it is, and also the more you see.

We are running our last AIARE Avalanche Level 2 this Thursday to Sunday. March 12-15, 2015. Davide Sartoni is the instructor and we are offer 50% off if you can make it. AIARE Avalanche Courses

Intro to Backcountry Skiing, Intro to Snow climbing and Rock Climbing here at Donner is what we are looking at. Also look for new Shasta Dates for Skiing.



INTRO TO BACKCOUNTRY Ski or Spiltboard
: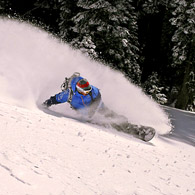 We have combined the courses this year, so you can come on Alpine touring, telemark or spiltboard!

We love to ski the backcountry! This is the ASI workhorse course to get you away from the lifts and into the backcountry. This one-day seminar is perfect for alpine skiers & rider who want to learn to use convertible touring bindings or spiltboard and telemark skiers ready to ski the backcountry.

Introduction to Backountry Skiing & Spiltboarding
Mar 14, 2015

(Sat)


Mar 28, 2015

(Sat)









AIARE AVALANCHE EDUCATION

:
The ASI AIARE Avalanche Level 1 has become the cornerstone of the winter program. Much more than just an avalanche course, the curriculum that now has evolved for
over 30 years ties together many aspects of backcountry travel and related skills to help your well being in avalanche terrain.

These programs are taught by an elite group of highly experienced
Ski Mountaineering Guides. They are passionate about the snow and your learning of the snow craft. All the knowledge comes back to practical, "real time" application of when we are out there in the snow.





AIARE Avalanche Level 1
Signup early, they all fill-up fast! December is an excellent time to get your education in. It doesn't take much snow to run a great course. Then, you're set for the rest of the season, when the free-riding really gets good.


AIARE Avalanche Level 1
Mar 13-15, 2015...

(Fri- Sun)


Mar 20-22, 2015...

(Fri-Sun)



Already Done an Avalanche Level 1?
Consider our 1-Day REFRESH. Pickup the latest upgrades of information. Practice your application of the variation of the Level 1 skills. Remember, they take years to master. The snow changes all the time.

AIARE Avalanche Level 1 REFRESH
March 15, 2015

(Sunday)





Ready For Avalanche Level 2 This Year?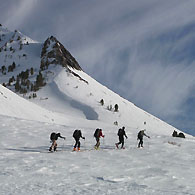 You've been in the snow since your Level 1. You know there's more as part of your continuing education. Maybe it's time for Level 2. The AIARE Level 2 program is a 4 day/40hr. program that provides backcountry leaders the opportunity to advance their avalanche knowledge and decision making skills.

AIARE Avalanche Level 2

Mar 12-15, 2015

(Thurs-Sunday) New Date Running it at 50% off!! Last course of the season.





LIKE US ON FACEBOOK

:
"Like" our page will be entered in our December Drawing. The winner will be announced in our January Newsletter!



COME JOIN US!
:


We love to ski the backcountry! This is what ASI is all about getting into the backcountry. Come join us this year!
We look forward to climbing and skiing with you and helping you achieve your mountain dreams. If you can't find the answer to a question on our website, don't hesitate to give us a call.

Sincerely,
Bela & Mimi Vadasz - ASI Directors
Alpine Skills International
bela@alpineskills.com
530-582-9170



Operating on a non-discriminating basis under Special Use Permit, Inyo National Forest, Tahoe National Forest, Shasta/Trinity National Forests, Eldorado National Forest, Sequoia/Kings Canyon National Parks.