CONTENTS


Tioga Pass Finale
Wilderness First Aid & CPR
Spring Shasta Skiing
Intro To Snow Climbing
Get ready for Climbing
Featured Rock Specials

Upcoming Programs

Conditions Updates

Tech Tips

Mimi Vadasz
Adminstrative Director
AMGA Certified
Ski Mountaineering Guide


Bela G. Vadasz
Technical Director
IFMGA Certified Guide
May 17, 2016





What a Season!


Finally some spring snow. If you go up high to Tioga Pass or Shasta the skiing is great!



Tip for Spring:


If you think you didn't get enough skiing in this season. Think about joining us on Mt. Shasta. The conditions are good up there and May should be fantastic.







Got First Aid Skills?


Have you ever wondered what you would do if someone in your group broke their leg skiing or your climbing partner was struck in the head by a rock? Every backcountry skiing, climbing or mountaineering group should have people trained in wilderness first aid skills because it's only a matter of time in before you will need to put them into use in the backcountry.

Wilderness First Aid - WFA & CPR
This entry level, 2-day (18 hour)

June 11-12, 2016



SPRING SKI MOUNTAINEERING
Hidden Valley Basecamp or Brewer Creek
There are very few places in the world that offer the length and variety of ski descents that Mt. Shasta offers. On a clear day you can see more than 100 miles in every direction from the summit, and theoretically, you can ski in any direction for over 7,000 vertical feet.

This is our favorite tour because we camp at Hidden Valley, which keeps us away from the crowds, putting us in perfect postion to climb and ski one of Shasta's longest, sustained pitches, or the option to ski off Shastina as well.
May 28-30, 2016



Private Ski Mountaineering on Mt. Shasta & High Sierra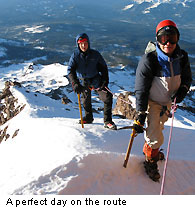 Our Guides, , will be available for you or your private group through the first week of June for ski mountaineering or alpine climbing on Shasta's renowned routes such as the John Muir Route, the West Face and Casaval Ridge. This is the year to go!





Get ready for the Climbing Season
Make it your turn this summer for the best climb just right for you and your ability. Join us on Mt. Shasta, Mt. Whitney, in the High Sierra or Rock Climbing at Donner Pass or Lover's Leap.



ROCK CLIMBING SPECIALS
One to Four People
Family or Friends Rock Climbing Special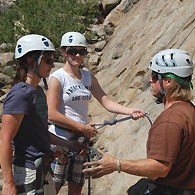 With the low snow pack on the south faces we can start our climbing season early. Get a group of 1 to 4 and come for our Half-Day specials at $269, includes all gear.

Starting May 18th and running all season. You pick the date and either a morning session (8:30am) or afternoon session (1pm). Additional people above 4 are only $69 each.






Please check us out on Facebook for Daily and weekly Specials and Updates!



.





We look forward to skiing or climbing with you and helping you achieve your goals. If you can't find the answer to a question on our website, don't hesitate to give us a call.

Sincerely,
Mimi Maki-Vadasz - ASI Director
Alpine Skills International
530-582-9170