Learning proper ski mountaineering skills is the next next step for skiers and riders ready to take their experience to the next level. Our Backcountry Skiing courses teach important uphill, downhill and mountaineering techniques to enjoy above tree-line, alpine terrain -- the zone where some of the best skiing and riding experiences are found.




Intro to Backcountry Skiing

1 Day


This 1-day seminar is perfect for alpine skiers who want to learn to use convertible touring bindings, as well as telemark skiers ready to ski the backcountry.



Tahoe Backcountry Ski Tours

1 Day


Silver Peak - NEW
Razorback Ridge - NEW
Anderson Ridge Tour
Castle Peak Tour
These "Sunday Routes" are designed as a follow-up day to apply the skills you learned on your Intro course. These tours are also for skiers & splitboarders with previous backcountry touring experience.



Ski Mountaineering Techniques

1 Day


For experienced backcountry skiers & splitboarders ready to add the skills needed for high mountain glacier tours.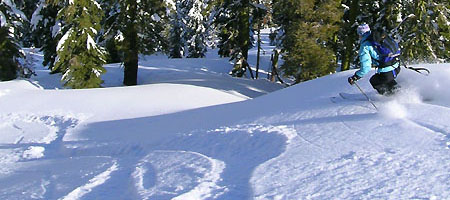 Lost Trail Lodge – Backcountry Skiing

2 Day


This program really "takes it there" and combines the absolute best skiing off the Anderson Crest (accessed from Sugar Bowl) with a night at a beautiful lodge in the heart of the backcountry.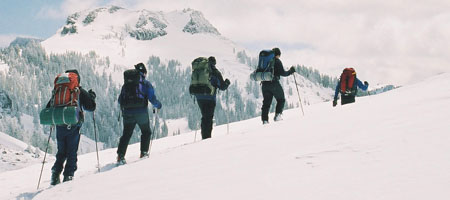 Sugar Bowl To Squaw Valley

2 Day


This 2-day tour presents state-of-the-art High & Light ski travel systems. This is the ultimate prep for longer multi-day High Route touring.





Ski Improvement for Mountain Guides
Bela and master freeride skier, Eric DesLauriers will provide a special course for professional Mountain Guides looking to improve thier skiing standard to meet AMGA Ski Mountaineering Guide Certification requirements.

Ski Guide Pre-Course
This course is designed for recreational leaders or skiers or boarders aspiring to enter the AMGA Ski Guide Course, who may not yet meet the prerequisites. It's also a great head start to help set you up for success toward your AMGA Ski Mountaineering Guide Certification Exam.



*All programs include the use of Ortovox avalanche safety equipment.