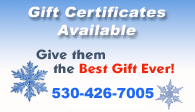 Mimi Vadasz
Adminstrative Director
AMGA Certified
Ski Mountaineering Guide


Bela G. Vadasz
Technical Director
IFMGA Certified Guide

Winter is here and it's Game On!


The significant Winter Storm of December 6-8, 2007 brought over two and a half feet of snow to the Tahoe area. The December 18-20th storm brought more than three feet and we are riding!

Come up and ski alpine, tele, randonnée or snowboard.
It's all sliding and about enjoying this incredible mountain environment!



New ASI Website


We have created an all new website. It's packed with lots of information and new programs for you to enjoy. We are continuing to add new photos, route descriptions, topo maps and tech-tips for your benefit. Keep checking back and we hope you will continue to find useful information.







Exciting New Programs


We have adjusted our progressions of courses, making it even easier for you to participate. Several programs are now one-day workshops to get you going, then some convenient follow-up programs afterward. Featured new programs include:

XCD Backcountry Intro Special

$149




(Includes Gear)



Backcountry Skiing Intro Special

$169




(Includes Gear)



In-N-Out Of Bounds at Sugar Bowl

Spring 1 & 2-Day Tours

Valdez Ski Mountaineering

Ski Norway By Boat



AIARE Avalanche Courses

AIARE Avalanche Level 1
This is now a 3-day program. It is a thorough, stand alone course emphasizing backcountry decision making skills. It now includes more time with tour planning, map reading, a thorough excercise with the observation checklist, more terrain travel and the latest companion rescue techniqes. This may be the only avalanche course some of you will ever take. Why not take the very best, highest quality program possible.

Avalanche Skills Tour
This third day component is a thorough upgrade to your previous AIARE 2-day course to meet the current 3-day format. It is also an excellent refresher and an opportunity to get information on new and improving techniques.







New to the ASI Instructional Team




Lorenzo Worster


Lorenzo has made an incredibly successful career out of being a professional telemark skier. He has now joined the ASI Instructional Team and will be offering specialty telemark workshops, presenting new and fresh approaches to telemark freeride, big mountain as well as park and pipe skiing. Besides being a certified PSIA Level III Telemark and Level II Snowboard Instructor, Lorenzo is also working toward his AMGA Ski Mountaineering Guide Certification.

Check out Lorenzo's new courses:
Telemark Freeride & Freestyle Courses



Logan Talbot


Logan is an exceptionally talented Rock and Alpine Climber. He worked with Bela Vadasz to complete his AMGA Top Rope Site Manager Certification, has big wall climbing experience on several El Cap routes and has recently returned from leading a successful climbing expedition of Ama Dablam, one of the most spectacular peaks of the Himalaya near Mount Everest. Logan drives a classic Land Cruiser that he converted to biodiesel. We are sure you will enjoy his personable approach to teaching you great skills.







20 Year Anniversary of Integral Peuterey, Mt. Blanc


Bela and Mimi just completed a slide presentation at Squaw Valley of their first American ascent of the complete Peuterey Ridge of Mt. Blanc in Italy and France, just to be 20 years ago.

The ascent included 110 pitches of rock, mixed snow and ice climbing, 27 rappells and a total of almost 15,000' of vertical ascent. It is the longest, hardest route of its type in all the European Alps.







Winter Mountaineering


In addition to our ski programs we offer winter climbing to help keep your skills sharp year round.

Winter Mountaineering

Winter Frozen Waterfall Ice Climbing







Guide Training



AMGA Contract Ski Guide Course
Bela Vadasz has teamed up with Howie Schwartz, the two AMGA Ski Guide Discipline Coordinators and the two most experienced instructors to teach a special course here in the Sierra. The first 4 days will be held at Donner Pass then the remaining 8 in the Eastern Sierra. www.amga.com



Date:

Feb 27 - Mar 9, 2008




Cost:

$2,200



Ski Improvement for Mountain Guides
Bela and master freeride skier, Eric DesLauriers will provide a special course for professional Mountain Guides looking to improve thier skiing standard to meet AMGA Ski Mountaineering Guide Certification requirements.



Date:

Jan 28-30, 2008
Mar 17-19, 2008


Cost:

$450

(w/out Sugar Bowl lift pass)




$595

(with Sugar Bowl lift pass)