Upcoming Programs

Conditions Updates

Tech Tips


Mimi Vadasz
Adminstrative Director
AMGA Certified
Ski Mountaineering Guide


Bela G. Vadasz
Technical Director
IFMGA Certified Guide
July 10, 2009
Friends of ASI


A lot of folks move to the mountains for the snow of winter. Seasonal cabin rentals attest to that in spades. However, those who stay, stay for the summer. The past two weeks are a perfect example. Average daytime temperatures are in the 70s and 80s, and the skies are clear blue or christened with clouds billowing off the peaks. It's perfect weather for hiking, biking, and rock climbing. Even on hot days it only gets into the 90s by late afternoon leaving lots of time for climbing in moderate temps on warm granite.

Even though summer is in full swing it is worth noting that conditions on Mt. Shasta continue to be excellent. Thanks to late season snow in June the suncups have been held at bay and all routes are in good shape, with good access to all trailheads.







Tech Tip: Getting Hitched


On a multi-pitch route, we used to tie-in to the belay anchor with a figure eight on a bite. It's a very secure knot but it is difficult to estimate the final length of the rope to be tensioned against the anchor.


The best internationally accepted method is for the climber arriving at the belay stance to use his or her climbing rope and tie directly into the master point of the anchor with a clove hitch. It takes a little practice to learn to tie the knot, but once you learn it, you'll love it!

It's quick and easy to tie but more importantly, it's super easy to adjust the length between you and your harness so you can get comfortable for belaying your partner.

For all the details on this simple technique click here.



PS: Notice the knot the being used by guide Logan Talbott in the photo at the top of this newsletter. Yup, that's a clove hitch.





The Next Move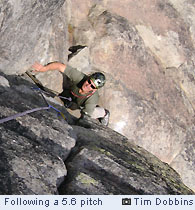 This course is lots of fun and great for building confidence and honing technique while top-roped. Perfect for those who have climbed in a gym, are belay qualified and are ready to take their skills outside on real rock. Depending on where you want to focus, we cover techniques on steeper climbs, faces and cracks, plus tricks for resting and moving more efficiently.

The Next Move


Every Sunday





Lover's Leap
Lover's Leap is considered one of the best climbing areas in the country by one of America's most prolific climbers, Royal Robbins. Sustained, multi-pitch routes on clean granite with amazing dikes, shelves and ledges make climbing here relatively easy, but with plenty of nervy exposure to keep your adrenaline high.

There are many routes in the 5.6 to 5.9 range so you needn't be a rock-star to enjoy these climbs. Since the season runs from April through October we leave the scheduling up to you. Pick a date, grab a friend, and we'll meet you there for one or two days of excellent climbing at whatever level you're comfortable with, or comfortable pushing.

Lover's Leap


Choose your own date





Youth Ski Mountaineering Camp Report
Eight kids were able to join us on our second annual Youth Ski Mountaineering Camp held on Mt. Shasta this year. Access to steep slopes wasn't as easy as at Tioga Pass, but the snow was unquestionably superior on Shasta (and still is). We base camped at Bunny Flat by the cars, taking advantage of Barb Hartley's generous offer to be our camp cook. This freed up guides Peter Mayfield, Eric DesLauriers and Tim Dobbins to focus on teaching the boys basic ski mountaineering skills on the first two days.

On only the second day guide Tim Dobbins led Tobin Vadasz and Galen Riggs in a
predawn start to the top of the Trinity Chutes at 13,364'. That was a stout 6600 vertical foot day, especially for day two with a relative novice on the team.

Day three we shifted gears and introduced the boys to basic rock climbing skills at Castle Crags. Then to finish off the course they did an overnight bivy at Hidden Valley with one team heading up the West Face of Mt. Shasta and a second to Shastina with a descent of the Lightning Bolt Couloir. Eric DesLauriers said, "the kids went above and beyond what they had ever experienced before."







Glacial Ice Seminar on Mt. Shasta


If your heart is smitten with the mountains, big mountains will be in your future. That means sooner or later you'll need to learn about glaciers. In this four-day intensive seminar we cover ice axe, crampon, and snow travel techniques, hazard recognition, assessment and management, roped glacier travel skills, crevasse rescue, steep ice climbing techniques, and route planning for glaciated routes on big peaks throughout the world. On the last day we make a pre-dawn bid for the summit of Mt. Shasta on the remote northern side of the mountain.

Glacial Ice Seminar


July 27-30, 2009

(Mon-Th)




Sept 7-10, 2009

(Mon-Th)









Carpooling?


We know how much of a chunk the pump can take out of your wallet these days. We don't have anything formal set up, but give us a shout if you'd like to take a course, but need to share expenses getting here. There's always a chance someone along your route shares the same dilemma. If so, we'll help you coordinate transportation.





We look forward to skiing with you and helping you achieve your goals. If you can't find the answer to a question on our website, don't hesitate to give us a call.

Sincerely,
Bela & Mimi Vadasz
Directors
Alpine Skills International
530-582-9170