CONTENTS


Gift Certificates
BAC at Sugar Bowl
New This Year
Super Sidecountry
Early Season Tune-up
Winter Ice Climbing
Cordova, Alaska Heli
International Tours


Upcoming Programs

Conditions Updates

Tech Tips


Mimi Vadasz
Adminstrative Director
AMGA Certified
Ski Mountaineering Guide


Bela G. Vadasz
Technical Director
IFMGA Certified Guide
December 15, 2010





Greetings Friends of ASI!


Happy Holidays! Bela & Mimi Vadasz and the entire staff at ASI would like to wish you and your loved ones the very best this Holiday Season. We hope you get out and enjoy the fabulous snow as much as possible this year.



Gift Certificates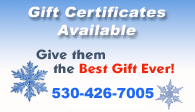 There's nothing better than giving a gift of an ultimate mountain experience. Choose a specific trip or a designated value and make them happy with a gift to remember for a lifetime!



The Backcountry Adventure Center
We're in full operation at our winter headquarters at Sugar Bowl's snowbound village. The BAC is located on the first level of the Ski & Sport Chalet, near the Disney lift.

Our Main Program: SIDECOUNTRY
Lift accessed backcountry is both a wonderful way for a lift area skier or boarder to get introduced to the backcountry as well as for diehards to ski and ride the awesome terrain Sugar Bowl's backcountry has to offer...like no other ski resort in the Tahoe area. It's all done with professional AMGA-Track Guides who are also avalanche professionals providing the best skiing with valuable take-away skills. Join us this season!


Full Demo Rental Program
Come in and check out our new demo rental fleet of AT, telemark and splitboards. It's a great opportunity to try out the latest gear from
The Back Country.

Call the ASI office for details:
530-426-7005
530-582-9170



New this year


Avalanche Airbag Packs. As part of our high regard and educational ideals toward avalanche safety, we are featuring BCA Float 30 airbag packs as part of our Sidecountry programs. With 98% survival rate in documented avalanche incidents throughout the world. Avalanche airbag packs may become the new standard in avalanche safety. Come by and check these out.



New - Super Sidecountry
Our Sidecountry alone is so good, it's worth coming back for. Just like a good day of heli-skiing. For our return skiers, we added some new "Super Sidecountry" programs to optimize the great terrain and Sugar Bowl's open boundary policy.

New Routes - We are still skiing new lines off all Four Summits (Judah, Lincoln, Disney and Crows). New Routes is designed to take you to ski new lines still being discovered in this huge area.

4000' PLUS - This is our big day combining great descents and fitness ascents off all four of Sugar Bowl's Peaks in one day. For skiers and riders in Excellent Physical Condition.

Ski Extrême - Join legendary steep skier, Tim Dobbins on a technical ski descent of the North Face of Donner Peak. It's harness and ski rope at the crux with lots of steep and exposed skiing. For true experts only.



Early Season Tune-up
The real snow is here and Eric DesLauriers is ready to ski with you on December 28th for an Early Season Tune-up (Guaranteed to make you a better skier)! Based at Sugar Bowl, we'll cover early season fundamentals, setting you up for fun and success the rest of the year. Hone your technique on the early season groomers and apply these same moves off-piste or in the backcountry when the snow starts to really fly.


Early Season Tune-up


Dec 28, 2010





Winter Ice Climbing
With help from our friend and colleague, IFMGA Guide, Doug Nidever, based at June Lake (near Mammoth Mountain), we have revamped our winter ice climbing program, offering a full repetoir of technical ice and mixed climbing. Each are 2 days in length at June Lake and Lee Vining Canyon.

Ice Climbing 1
Intro to ice winter climbing.


Jan 1-2, 2011



Ice Climbing 2
Steeper ice climbing, multi pitch climbing, ice protection, anchor building and evaluation.

Ice Climbing 3
Mixed Climbing, multi-Pitch ice climbing, techniques for climbing rock with tools and crampons, ice and rock protection, climbing without leashes.





Cordova, Alaska Heli Drop Tour
We are excited about a brand new program to yet another area in the Chugach Range.


Mar 26 - Apr 2, 2011



Call for details
530-426-7005
530-582-9170



International Tours
Mimi Vadasz's trip back to the Everest region was a perfect success. They were a great group of trekkers and had a wonderful climb of Island Peak (20,320'). It's a trip of a lifetime you won't want to miss next year. Mimi will also be guiding Kilimanjaro in July.

Other World Tours in 2011 will include:
Cordova Alaska Heli Drop - March
Chamonix-Zermatt Haute Route - April
Berner Oberland, Switzerland - April
Mt. Kilimanjaro, Africa - July
Chile Ski Touring - October





We look forward to climbing and skiing with you and helping you achieve your mountain dreams. If you can't find the answer to a question on our website, don't hesitate to give us a call.

Sincerely,
Bela & Mimi Vadasz - ASI Directors
Alpine Skills International
530-426-7005
530-582-9170