CONTENTS


What Skiing History
Logan Vadasz Video
Super Sidecountry
Day Tours
Sugar Bowl To Squaw Valley
Early Skiers Video


Upcoming Programs

Conditions Updates

Tech Tips


Mimi Vadasz
Adminstrative Director
AMGA Certified
Ski Mountaineering Guide


Bela G. Vadasz
Technical Director
IFMGA Certified Guide
Mar 1, 2011





Greetings Friends of ASI!



Donner Pass, What Skiing History!:
By the 1930's, the European immigrants who already knew about "sport skiing", began their visits, often by train from San Francisco to the train stop at Norden, CA
(just short of Donner Pass). It didn't take much to recognize this recreational skiing gem. The Five Peaks, soon to be named Donner Peak, Mt. Judah, Mt. Lincoln, Mt. Disney and Crow's Nest, would become the skier's dream, easily accessible from San Francisco. The first skiing was done with grip wax (or seal skins) for the uphill climbs, before the lifts. By the mid-30's, plans began and by the late-30's, the first lift was built to the top of Mt. Disney.

Today, we're skiing this fabulous, historic resort and now (again) using our climbing skins to enjoy the amazing Sidecountry off the backsides of all five peaks. See how the locals are taking advantage of Sugar Bowl Sidecountry on Craig Dostie's new Earn Your Turns website.





VIDEO:
Skier, cinematographer, editor and choreographer, Logan Vadasz, age 15, skiing off Donner Peak (Feb 20-21, 2011).




Super Sidecountry
:
TRIP REPORT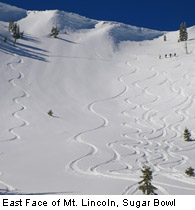 Yesterday, seasoned ski guide, Peter Leh guiding for ASI at Donner Pass for over 30 years, lead a group of 4 experienced backcountry skiers on a big day of ski adventure. With lift access to Mt. Lincoln, then later to Mt. Disney, they linked the enchainment of all 5 Peaks including Donner Peak to Crow's Nest. They skied all the best backside routes with skin-ups totaling nearly 5,000 vertical feet.

The "quick to rise" avalanche hazard from the previous storm was also the typical Sierra "quick to fall", leaving great backcountry fresh track conditions. A great day for Super Sidecountry.



Day Tours
:
Besides our Sidecountry skiing at Sugar Bowl, we offer some great follow-up tours here in the Tahoe area.

Castle Peak Tour


Mar 20, 2011



Anderson Ridge Tour
Mar 6, 2011
Mar 27, 2011

Mt. Rose Tamarack Tour


Apr 10, 2011





Sugar Bowl To Squaw Valley
:
THEN & NOW
By: Bela G. Vadasz
The route was skied long before there were any developed ski areas at Squaw Valley or even Sugar Bowl and Sugar Bowl is the oldest ski area in California. A hut system began to be built by the Sierra Club beginning at North Tahoe with the intention of continuing all the way south, along the Sierra Crest to Mt. Whitney with a marked ski trail the entire way.

The abandoned project was known as Sierra Ski Ways. You can see a few historic trail markers along the Sugar Bowl to Squaw Valley portion of the route. Read on >





VIDEO:
Skiing in the eary 30's, Soda Springs, Norden and on to Lake Tahoe.






We look forward to climbing and skiing with you and helping you achieve your mountain dreams. If you can't find the answer to a question on our website, don't hesitate to give us a call.

Sincerely,
Bela & Mimi Vadasz - ASI Directors
Alpine Skills International
530-426-7005
530-582-9170