CONTENTS


Skiing with Passion
Higher & Deeper
Tahoe Backcountry Ski Tours
Featured Book
Ski Mountaineering


Upcoming Programs

Conditions Updates

Tech Tips


Mimi Vadasz
Adminstrative Director
AMGA Certified
Ski Mountaineering Guide


Bela G. Vadasz
Technical Director
IFMGA Certified Guide
February 2, 2011





Greetings Friends of ASI!



Skiing with Passion:
We all love to ski! The freedom of movement and expression. The feeling of knowing we are skiing well and making the most out of whatever conditions bring. We love to ski!

If you haven't been Sidecountry with us yet here at Sugar Bowl, you should definitely join us for a day of lift-accessed backcountry skiing. We know you'll love it!



Going Higher & Deeper
:
Days are getting a little longer and the angle of the sun a little higher. We love skiing at our winter base at Sugar Bowl, but as the season gains, it's a great time to get out a little farther, go a little deeper, away from the lifts and get some even higher summits to ski:

Sidecountry
Lift accessed backcountry from the BAC at Sugar Bowl. Every Sat, Sun & Holiday. Get a group of 3 or more and make your own mid-week date.


Feb 6, 2011...

(Sun)



New - Super Sidecountry

Our Sidecountry alone is so good, it's worth coming back for. Just like a good day of heli-skiing. For our return skiers, we added some new "Super Sidecountry" programs to optimize the great terrain and Sugar Bowl's open boundary policy:

New Routes
We are still skiing new lines off all Four Summits (Judah, Lincoln, Disney and Crows). New Routes is designed to take you to ski new lines still being discovered in this huge area.


Feb 13, 2011

(Sun)



4000' PLUS
This is our big day combining great descents and fitness ascents off all four of Sugar Bowl's Peaks in one day.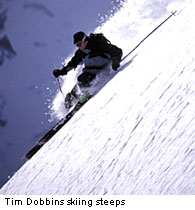 For skiers and riders in Excellent Physical Condition.


Feb 20, 2011

(Sun)



Ski Extrême
Join legendary steep skier, Tim Dobbins on a technical ski descent of the North Face of Donner Peak. It's harness and ski rope at the crux with lots of steep and exposed skiing. For true experts only.


Feb 27, 2011

(Sun)



Sugar Bowl To Squaw Valley, Speed
One day, starting with a special early lift ride to the top of Mt. Lincoln. Previous ski touring experience and excellent physical condition required.
Call for details
530-426-7005
530-582-9170


Mar 19, 2011

(Sat)





Tahoe Backcountry Ski Tours
:
These "Sunday Routes" are a perfect follow-up day to apply the skills you learned on your Intro/Sidecountry course. These tours are also for skiers & splitboarders with previous backcountry experience to join:

Castle Peak Tour


Feb 13, 2011...

(Sun)



Anderson Ridge Tour


Feb 20, 2011...

(Sun)



Mt. Rose Tamarack Tour


Mar 13, 2011...

(Sun)





Featured Book - Fifty Classic Ski Descents:

A beautiful, large collectible classic written by Chris Davenport, Art Burrows and Penn Newhard with contributions from some of America's most renowned ski mountaineers.

A contemporary piece capturing the state of the sport with excellent photographs, creating a visual splendor of American ski mountaineering.





Ski Mountaineering:
You've been backcountry skiing and you're ready for the next steps of high mountain ski adventure:

Ski Mountaineering Techniques
The best opportunity for backcountry skiers to add the mountaineering skillset to the equation.


Feb 16, 2011

(Wed)




Mar 20, 2011

(Sun)



Sugar Bowl To Squaw Valley High Route
Our traditional 2-day tour teaching ASI's "High & Light" ski camping skills along the way. The gateway trip to enjoying longer distance spring tours in the High Sierra.


Feb 26-27, 2011

(Sat-Sun)




Mar 12-13, 2011...

(Sat-Sun)




The Sierra High Route
The premier Trans-Sierra high-level route! This six-day ski mountaineering traverse crosses the Sierra Nevada over nine high cols and passes, holding an elegant line between 10,500' and 13,000'. We ski high ridges, passes, cirques, and glaciated plateaus, reveling in breathtaking views and superb downhill runs.




May 1-6, 2011

(Sun-Fri)







We look forward to climbing and skiing with you and helping you achieve your mountain dreams. If you can't find the answer to a question on our website, don't hesitate to give us a call.

Sincerely,
Bela & Mimi Vadasz - ASI Directors
Alpine Skills International
530-426-7005
530-582-9170