Upcoming Programs

Conditions Updates

Tech Tips


Mimi Vadasz
Adminstrative Director
AMGA Certified
Ski Mountaineering Guide


Bela G. Vadasz
Technical Director
IFMGA Certified Guide
Jan 21, 2010




It's Dumping Now!!!



Now that the major holidays are over, it's time for serious skiers to get down to business. We've had great skiing and now it's even better! Even epic...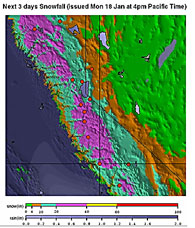 As a result, our NEW Backcountry Adventure Center has gotten off to a fantastic start. Lots of new people have been introduced to the spectacular terrain and experience of skiing past the traditional boundaries at Sugar Bowl resort.

Best of all the forecast is calling for lots of new snow this week. Look at the picture above. The light blue means 10-20 inches of snow is predicted over the next three days while the purple means 20-40 inches of new snow. And that's on top of the 10 to 20 inches we just received.

Be sure to check out our schedule online today and sign up for the tour of your dreams or, if it's not listed, give us a call and we'll work with you to plan it and make it a reality.



Lost Classic Found, Early Skiers
Come work on some early season telemark turns and ski with the best. Master Instructor, Geoff Clarke is ready to share his telemark knowledge and tricks.

Back in 1970, when ASI Director Bela Vadasz was but a teenager he saw a film about skiing around Donner Pass in 1930. Since it was before any lifts were installed the films cast used free heel touring skis and made telemark turns. This short film inspired Bela and Mimi to start their telemark ski school in 1974, which evolved into the ASI program in 1979. It's about 10 minutes long and will build your respect for those who paved the way while making you grateful for modern equipment and chairlifts.



Sidecountry goes off!
Now that we're physically located in the heart of Sugar Bowl resort we've learned a ton of new lines we never even thought about skiing before. There are all kinds of nooks and crannies around Sugar Bowl's perimeter just itching for us to leave tracks in. Join us on a Sidecountry tour this weekend and we'll show you a few of 'em while you learn some basic backcountry skills to boot.

Sidecountry
Jan 30, 2010

(Sat)


Jan 31, 2010

(Sun)



AIARE Intro To Avalanche Safety
Jan 30, 2010

(Sat)



Guided Lake Runs
Posted the day conditions permit.

Mini Clinics


3-5pm


Backcountry Gear: Dec 19, 2009

(Sat)


Navigation Basics: Dec 26, 2009

(Sat)



Ortovox Transceiver Practice Park


Every Sat (3:30 - 4:30) at the BAC





BIG Thursdays & Fridays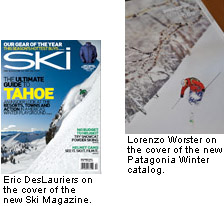 Throughout the winter of 2010 Lorenzo Worster and Eric DesLauriers will be available every Thursday and Friday for personalized skiing lessons. You've already been inspired by their moves in various ski movies - now use them as your personal coach to help you tackle the steeps, subdue the crud, master moguls, or simply let go and enjoy the powder. Lorenzo is a master of free heel techniques, and Eric of the alpine realm. Let them take your skiing to a whole new level.

Telemark with Lorenzo
Call to schedule

(Thur & Fri)



Private Ski The Whole Mtn Clinics with Eric DesLauriers
Call to schedule

(Thur & Fri)





European Haute Route
Every sport has its list of must do adventures. Europe's Haute Route is the classic high line across the Alps from Chamonix, France to Zermatt, Switzerland, a trip every ski mountaineer yearns to do at least once.

ASI has been guiding this route for almost 30 years now and it never ceases to amaze us with the challenges high mountains provide, or breathtaking scenery, delightful powder skiing, and the blending of languages and culture every night in the huts of the Haute Route. If you miss it this year, you'll only be older when you finally do it.

Haute Route Prep
Feb 16-18, 2010

(Tue-Thur)



European Haute Route
Apr 9-15, 2010

(Fri-Thur)





Featured Book - Ski The Whole Mountain
Eric and Rob DesLauriers' masterpiece for big mountain, all terrain and all conditions ski technique. It includes a great section to get you started touring with climbing skins as well.

We look forward to skiing with you and helping you achieve your goals. If you can't find the answer to a question on our website, don't hesitate to give us a call.

Sincerely,
Bela & Mimi Vadasz - ASI Directors
Alpine Skills International
530-582-9170