We're Still Climbing!


Here in California this is one of the best times of the year for rock climbing. Temperatures have dropped a bit and the mid elevations (5,000'-9,000') can provide perfect temps and excellent conditions.

With the crowds of summer over this is an excellent time to improve your skills and enjoy some of the finest guided climbs here at Donner Pass and Lover's Leap.







Sport Climbing with Peter Mayfield


Peter, one of America's
leading climbers will be conducting a special Sport Climbing Workshop at Donner Pass on Sunday, September 21, 2008. This is a great chance to enjoy the best granite face climbing and learn some important sport climbing tricks from one of the most experienced climbers in the country.

By the way, Peter just recently red pointed the route, Bronco 5.12d on Star Walls. Congrats Peter.

Sport/Face Climbing


Sept 21, 2008

(Sun)









Special Impromptu Workshops


From time to time we offer special workshops to the ASI schedule. They are often created from requests from our clients, when special guest guides or athletes are in the area or out of just plain passion from the ASI Guides. Check the site regularly for Impromptu Workshops.



Chimney Technique Workshop


No, this is not about how to become a chimney sweep!
If you're inspiring to do a great Yosemite climb like the DNB on Middle Cathedral, Steck Salathé on Sentinel, The Nose, Salathé Wall on El Cap or you just want to have some fun on routes with chimneys, take this workshop and learn some new techniques.

This special 1-day workshop presents an enjoyable, yet informative day covering the Donner chimney circuit. There's plenty in the 5.6 - 5.8 range. Signup early and join the fun.






Donner Pass Guided Climbs


The best concentration of 1-3 pitch climbs provides great opportunities for both crack and face climbing, often using both techniques on the same pitch. Donner is a super fun, user-friendly place to climb for all ability levels.

Here is just a sample of a few great Donner Pass climbs:

5.5
Kindergarten East, 3 pitches
Kindergarten West, 3 pitches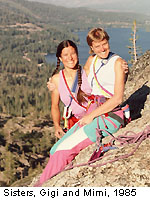 5.6
Junior High, 3 pitches
Compusure, 2 pitches
The Labyrinth, 3 pitches

5.7
Devaluation, 2 pitches
Cannibal Gully, 3 pitches
Rated X, first pitch

5.8
Eleventh Grade Corner, 1 pitch
Hair Shirt, 1 pitch
Split Pea, 1 pitch
Mole's Corner, 1 pitch
Telegraph Crack, 1 pitch
Rated X, 2 pitches

5.9
Senior Prom, 1 pitch
Pea Soup, 1 pitch
Nova Express, 1 pitch
Black September, 2 pitches
One Hand Clapping, 3 pitches (ultra classic)

5.10
Bottomless Topless, 1 pitch
Karl's Gym, 1 pitch
Farewell To Arms, 1 pitch
Bourbon Street, 3 pitches
Empty Over Go, 3 pitches

5.11
Peter Principal, 1 pitch







What about snow?


We'll talk snow on the next Newsletter but meanwhile, if you can't wait, we have posted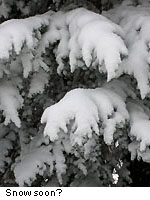 winter dates for the following courses:

AIARE Avalanche Level 1

AIARE Avalanche Level 2

Intro To Backcountry Skiing

Intermediate Backcountry Skiing

Advanced Tahoe Tours

XCD Backcountry Skiing







Guided Climbs at Lover's Leap


One of America's most prolific rock climbers, Royal Robins, has long considered Lover's Leap as one of the greatest climbing areas in the country.

The Leap's unique granite has horizontal bands that have weathered slower than the the surrounding rock, forming amazing dikes, shelves and ledges. Sometimes, ladder-like sections can be found on ultra steep routes, providing super exposed yet ridiculously easy climbing. Many excellent routes exist in the 5.7 - 5.9 range. Though they sound easy, they maintain a
challenging character that reflects true ratings and traditional ethics as the sport of rock climbing was originally defined here in California.

Lover's Leap routes are best experienced as traditional multi-pitch climbs, climbing in a small team of 2 or 3 (including the guide) from the bottom of the cliff to the top. ASI does not condone large classes congregating at the bottom of a route and teaching top roping on the first pitch of a classic multi-pitch climb.

ASI Guides have been climbing at Lover's Leap for nearly 40 years, having experienced the best and most classic routes. We invite you to join us to enjoy a super, high quality day that will leave long lasting rock climbing memories.



Recommended climbing days at Lover's Leap:



Most routes are 3 to 6 pitches in length. On a typical guided day, we usually combine 2 and sometimes 3 routes to produce a stellar day of climbing at each individual's level of ability.

In addition to the classic routes listed below, ASI Guides are familiar with many other equally enjoyable alternatives.

Some of our favorite routes to guide: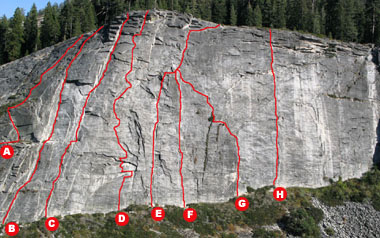 East Wall
Pop Bottle 5.7, 3 pitches
A pleasant, shorter, easier route. Good to help get used to the climbing at the Leap.



East Corner 5.10a AO or 5.11b, 3 pitches
The stunning corner crack. The crux bulge on the second pitch is often climbed with a pull of aid, keeping the route at 5.10a.



Haystack Crack 5.8, 3 pitches
An excellent route following a right-facing corner with a fabulous 4-foot ceiling forming the crux.



Fantasia 5.9R, 5 pitches
"In its improbability lies its beauty" and "more bold than hard" have been used to describe this difficult test piece of character building climbing. For very experienced climbers only.



East Crack 5.8, 3 pitches
A good, stout climb in the 5.8 range combining crack and face climbing moves.



Bear's Reach 5.7, 3 pitches
One of the ASI Guides' favorite. Steep runout climbing starts this delectable blend of dikes, cracks and flakes leading to the infamous Bear's Reach, passing the crux section. Then, more interesting and thought provoking climbing leads to the summit.



East Wall 5.6 or 5.7/5.8 finish, 3 pitches
Don't underestimate the low rating of this excellent route. The steep, dihedral of the first pitch contains sustained combination climbing. It's followed by prevocative traversing pitches up and left, using some amazing features for natural protection. The final pitch is best done with a 5.7/5.8 move at a thin crack over a small roof or the 5.6 alternative.



The Line 5.9, 3 pitches
Directness of purpose is the best way to describe this near perfect, elegant route (one of the best climbs at the Leap). In fact, RR calls the first pitch one of the best at Lover's and one of the 10 best he has ever climbed.
For more routes and detailed information on Lover's Leap, click here.