CONTENTS


FAMILY ROCK CLIMBING
CLIMB MT. SHASTA
TECH TIP
SIERRA MOUNTAINEERING
CLIMB MT. WHITNEY
NEW ASI HATS
OFF SEASON SKIING
ANTARCTICA 2013
ASI FACEBOOK



Mimi Vadasz
Adminstrative Director
AMGA Certified
Ski Mountaineering Guide


Bela G. Vadasz
Technical Director
Internationally Licensed
Mountain Guide

Upcoming Programs

Conditions Updates

Tech Tips
July 25, 2012
Greetings Friends of ASI:



SUMMER IS HERE!


The weather is superb and summer activities are abound. The rock climbing on Donner Pass is in full swing and the climbing conditions on Mt. Shasta, Mt. Whitney and Tioga Pass are ideal. It's time to get out, climb and learn some great outdoor skills with your friends and family!



FAMILY ROCK CLIMBING
:
Take the family out to try rock climbing! This 1/2 day of climbing with your family of 3-4 can be arranged for novices learning the basics, intermediates climbing in the mid-grades or advanced climbers top-roping routes as hard as you choose.



Family Cost:




$229

8:30am - 12:pm or 1-4:30pm



Family Rock Climbing Special


Choose your own date





CLIMB MT. SHASTA
:
These 2-day ascents are short courses covering the most important fundamental skills and mountaineering safety techniques. We cover self-belay and self-arrest with your ice axe and French stepping with your crampons. You will learn to build a safe high camp and begin to understand avalanche and rock-fall hazards.

Shasta Summit Climb


July 7-8, 2012

(Sat-Sun)




July 9-10, 2012

(Mon-Tue)




July 14-15, 2012

(Sat-Sun)




July 16-17, 2012

(Mon-Tue)





TECH TIP
:
SNACK LUNCH FOOD
By Bela G. Vadasz
To best accommodate different tastes and needs, it works well for each member of a climbing team to select, measure and pre-package their own lunch food. We need to calculate carefully, especially on multi-day trips, when weight and bulk become an issue. Here are some important considerations for choosing and packing your lunch food:

Choose food with plenty of caloric value. Shoot for about 1500-1800 calories per day for your snack lunch food. We usually count on another 1500 or so for breakfast and dinner combined. Think of the food values as quick-burning to give you fast energy and slow burning, like a time-release tablet. Different than daily food back home, carbohydrates are great for the quick energy and fats and protein is the theme for the long haul. Read On >



SIERRA MOUNTAINEERING
:
We have taken over 50 years of climbing in the High Sierra and 35 years of teaching and made a special new 2-day course on Tioga Pass called Sierra Mountaineering. Making the best use of your precious time, it fits the most important rock and snow climbing skills into a practical, useful and fun weekend format in the High Sierra. It's destined to become our new "favorite" course.

Sierra Mountaineering


July 28-29, 2012...

(Sat-Sun)





CLIMB MT. WHITNEY
:
We have spaces available and permits reserved for Mt. Whitney climbs this summer. The Mountaineer's Route, Class 3, is a fantastic 2-day climb that's great for novice and intermediate climbers along with a mountain guide. It's perfect for those looking for a fulfilling, challenging climb.

The East Face and East Buttress Routes, III 5.6, are both truly classic climbs for rock climbers with previous rock climbing experience.

Mt. Whitney, Mountaineer's Route


July 14-15, 2012

(Sat-Sun)




July 28-29, 2012

(Sat-Sun)




Aug 4-5, 2012

(Sat-Sun)



Mt. Whitney, East Face


Aug 18-19, 2012

(Sat-Sun)



Mt. Whitney, East Buttress


Aug 25-26, 2012

(Sat-Sun)





NEW ASI HATS
:

Check out the new ASI Classic Snapback Hats, custom-stitched by bigtruck. They're the rage in Truckee. Offered in 3 different colors (Brown, Olive Green and Orange), each hat is unique with the ASI logo bordered by an actual Tibetan Prayer Flag that Mimi Vadasz brought from her Mt. Everest climb in 2003.



Cost:

$30




Plus $7.95 shipping/handling


To order, call 530-582-9170



OFF SEASON SKIING
:
A lot of us didn't get as much skiing in last season as we would have liked. We're thinking of a reverse season trip. We're talking to several people about skiing in South America in Sept/Oct and thinking of putting a couple of trips together.

Ideas include: Portillo (Chile), Bariloche (Argentina) and a ski mountaineering pilgrimage to the Fitz Roy Massif (Patagonia). Please let us know your thoughts and which one interests you.



ANTARCTICA 2013
: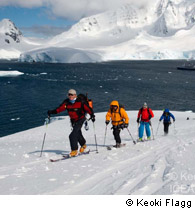 The amazing Antarctica Ski Cruise for November, 2013 is already taking reservations and spots are selling fast. Bela Vadasz is putting together a team of 4 for spectacular ski mountaineering in this incredible terrain.

From the comfort of our ship, we are skiing different glaciers and peaks each day. This is a true adventure of a lifetime...great people, lots of fun!

Antarctic Peninsula Adventure Cruise


Nov 4-16, 2013

(Sun-Fri)





ASI ON

:
Check out the ASI Facebook Page for the latest Photos, Trip Reports, Tech Tips and learn about the Routes We Guide. Please contribute too, as we love to see you post your own photos and comments!





We look forward to climbing and skiing with you and helping you achieve your mountain dreams. If you can't find the answer to a question on our website, don't hesitate to give us a call.

Sincerely,
Bela & Mimi Vadasz - ASI Directors
Alpine Skills International
bela@alpineskills.com
530-582-9170



Operating on a non-discriminating basis under Special Use Permit, Inyo National Forest, Tahoe National Forest, Shasta/Trinity National Forests, Eldorado National Forest, Sequoia/Kings Canyon National Parks.