CONTENTS


Everest Basecamp Trek
Donner Pass
Whitney
Featured Guide
Tech Tip
Dream Climb
Tom Carter

Upcoming Programs

Conditions Updates

Tech Tips


Mimi Vadasz
Adminstrative Director
AMGA Certified
Ski Mountaineering Guide


Bela G. Vadasz
Technical Director
IFMGA Certified Guide
July 14, 2010





Summertime!


The summer heat has finally turned on! The High Sierra is as beautiful as it gets. Plentiful moisture continued to add to the snowpack well into June. Waterfalls are still gushing and moisture abounds, making travel in the high country just fantastic.

We had to wear our mountain boots and gaiters a bit later than usual, but now we are enjoying the full bloom of wild flowers and hearty run-offs, making the Sierra and Mt. Shasta more beautiful than ever. Come enjoy the Sierra with us!



Everest Basecamp Trek
Join Everest sumitteer Mimi Vadasz and our dear friend, Geljen Sherpa for a tea-house trek from Lukla to Everest Basecamp, with a climb of Kala Patar (5,545m - 18,209'). They are anxious to return to the magic of the Khumbu region and we are offering this trip at a specially reduced price. It is all inclusive from Katmandu and is for fit trekkers with previous experience to 14,000'.





$1895

Nov 1-16, 2010




$795

Island Peak 4-Day Option



Call for details
530-582-9170



Rock Climbing on Donner Pass
Besides our ever-popular 9-Step Progression, the series of 1-day courses to build your skills at any level, we have added some new options:

Family Special
Bring the whole family out for a day on the rock. Intro to advanced climbing for a family of 3 or 4 includes all gear.


Family Cost:




$299

9am-3pm




$199

1/2 Day


Top Ropin' Tuesdays
A chance to improve your movement skills through coached top-roped climbing every Tuesday evening (4:30-6:30pm) throughout the summer.



Cost:




$89

Monthly Pass (4 consecutive Tuesdays)


$29

Tuesday Drop-In




Climb Mt. Whitney
We have spaces available and permits reserved for Mt. Whitney climbs this summer. The Mountaineer's Route is a fantastic 2-day climb that's great for novice and intermediate climbers along with a mountain guide. It's perfect for those looking for a fulfilling, challenging climb.

The East Face and East Buttress Routes, III 5.6, are both truly classic climbs for rock climbers with intermediate skills.

Mt. Whitney, Mountaineer's Route


$475




July 24-25, 2010

(Sat-Sun)

2 Spots




Aug 7-8, 2010

(Sat-Sun)

1 Spot




Sep 11-12, 2010

(Sat-Sun)




Sep 25-26, 2010

(Sat-Sun)



Mt. Whitney, East Face


$610




Aug 21-22, 2010

(Sat-Sun)




Sep 13-14, 2010

(Mon-Tue)

1 Spot



Mt. Whitney, East Buttress


$610




July 26-27, 2010

(Mon-Tue)




Sep 18-19, 2010

(Sat-Sun)





Featured Guide
Featured Guide, Ben Mitchell,

a fully licensed (international) IFMGA Mountain Guide, has returned from his Base Jumping expedition (yes, with a squirrel suit!) to Baffin Island. He then guided a successful Mt. McKinley expedition a few days later. He's here now at his home base in the Tahoe area and has fully joined the ASI Team of incredible guides ready to go climbing with you. You'll love climbing with Ben too!



TECH TIP: Get Hitched! - Münter/Clove Hitch Part 1
By: Bela G. Vadasz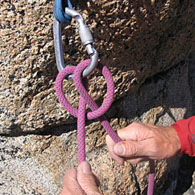 On a multi-pitch route, we used to tie-in to the belay anchor with a figure eight on a bite. It's a very secure knot but it is difficult to estimate the final length of the rope to be tensioned against the anchor. Lengthening or shortening the tie-in by adjusting the figure eight is hit or miss and much too time consuming.

Another method some climbers use is carrying an additional piece of gear called a daisy chain. It is a sewn nylon sling with bar-tack stitched loops, allowing the climber to choose the correct length by clipping into the appropriate loop. Read on...



Dream Climb
Put together your custom dream climb through Private Arrangement.

We would love to design your perfect climb with just you or your group of friends here in the Sierra, Mt. Shasta or other great ranges of the world.

Contact us and we'll make your dream climb come true!
530-582-9170




Tom Carter - Lurking Fear, El Capitan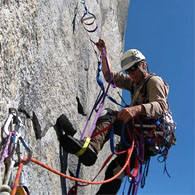 Lead Trainer, Tom Carter (TC), born and raised in the central valley of California in the shadows of El Capitan and Yosemite Valley, has returned to the days (and nights) on the beautiful rock routes on El Capitan. This spring, he completed his 10th trip up "The Captain", completing Lurking Fear after last fall on his climb of The Shield.

Previous routes for TC include the first ascent of Tribal Rite and the second ascent of Excaliber. It's no wonder he is so at home and in love with Yosemite. TC is here and ready to go climbing with you this summer and fall at Donner Pass.





We look forward to climbing with you and helping you achieve your goals. If you can't find the answer to a question on our website, don't hesitate to give us a call.

Sincerely,
Bela & Mimi Vadasz - ASI Directors
Alpine Skills International
530-582-9170