Upcoming Programs

Conditions Updates

Tech Tips


Mimi Vadasz
Adminstrative Director
AMGA Certified
Ski Mountaineering Guide


Bela G. Vadasz
Technical Director
IFMGA Certified Guide
April 2, 2009
Friends of ASI


Don't miss it! Spring skiing is going off right now. The snowpack is consolidating quite nicely throughout the Sierra, from Tahoe down to Lone Pine with corn snow the dominant condition. Just to keep things fresh there's more snow in the forecast for this Thursday evening.

According to the California Dept. of Water Resources the snowpack is about 85% of normal. In the north it is almost 90%, in the south, nearly 80%. For comparison, the last two seasons were about 65% of normal, and three years ago (05/06 season) was almost 150% of normal. Even though it is below normal, the good news is most of this snow is concentrated at the higher elevations, which means it will linger longer in the zones we care about as skiers.

Much of our confidence in the Sierra snow conditions comes from a recent ski guides course we
completed in mid-March which included tours around the Bishop and Mammoth areas. Besides gaining firsthand knowledge of snow conditions, we are pleased to share that ASI Guide Logan Talbott successfully completed the 12-day AMGA Ski Guide course. Logan joined our ranks only a year ago, after an exciting career as a deep-sea diver. His jovial nature and natural athleticism make him an outstanding leader for ASI courses, whether on rock, snow, or ice.

Besides excellent snow up high, the shift of seasons in the air means that air temperatures in the Owens Valley are usually moderate. That means T-shirts and shorts at your base camp along Hwy. 395 with easy access to the many hot springs between Bishop and Bridgeport. We encourage you to pick a spot near one of our scheduled east side tours (call us to find out where we will set up camp) and join us for a classic East Side ski descent, or maybe a trip north to Mt. Shasta.

Whether you join us this weekend or not, we hope you get out and make some turns real soon.







TECH TIP: Ski Crampons


One of the most overlooked pieces of equipment for ski mountaineers is the simple,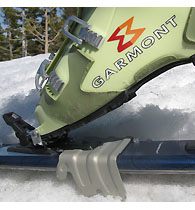 but effective, ski crampon. The most obvious use for them is while traversing steep slopes of firm snow, or skinning up early morning frozen corn snow. Ski crampons increase grip on the latter, and security on those sketchy steep traverses. Without them we are usually forced to change modes from skinning to booting, and usually just for a short section. Changing gears costs valuable time that is more easily dealt with by simply adding or removing ski crampons.

Less understood is their versatility beyond the grip they provide on firm snow. Quite often they help when traversing overripe corn snow where your skins grip the surface, but the corn layer itself slides on the bed surface. Ski crampons give solid edge grip in this situation, with nary an increase in drag. Now that the spring ski touring season is upon us, if you don't have a pair of ski crampons in your bag of tricks, we encourage you to obtain a pair. They are available for Fritschi, Dynafit, NAXO and Silvretta AT bindings, as well as Black Diamond, G3, 7tm, and Voile telemark bindings.







Evolution Loop 5-Day Ski Tour


The Sierra High Route
has the name recognition, but there are plenty of other multi-day tours that offer equal skiing and scenery, and certainly more solitude. The Evolution Loop tour is one of those. Over the course of five days we ski from Lake Sabrina up to Muir Hut, then loop back through the Evolution Basin for a final descent from Lamarck Col back to our origin.

Evolution Loop


Apr 20-24, 2009

(Mon-Fri)









Steep Camps


For the ultimate backcountry thrill -
skiing extremely steep couloirs - you need huevos and skill. Our steep camps will hone your skiing skills on steep terrain to give you the confidence and poise you need. Learn proper techniques for ascending and descending, where mistakes are not suffered lightly.

Buttermilk Steep Camp


Apr 25-26, 2009

(Sat-Sun)



Mt. Shasta Steeps


May 2-3, 2009

(Sat-Sun)




May 9-10, 2009

(Sat-Sun)



Palisades Ski Extrême


May 16-19, 2009

(Sat-Tue)









Ski Mt. Shasta


There are very few places in
the world that offer the length and variety of ski descents that Mt. Shasta offers. On a clear day you can see more than 100 miles in every direction from the summit, and theoretically, you can ski in any direction for over 7,000 vertical feet. Our favorite tour is to camp away from the crowds at Hidden Valley. This puts us in perfect postion to climb and ski one of Shasta's longest, sustained pitches, or the option to ski off Shastina as well.

Shasta Hidden Valley Basecamp


May 16-18, 2009

(Sat-Mon)




May 23-25, 2009

(Sat-Mon)









Climb Casaval Ridge, Mt. Shasta


This is a great early season climb.
Moving in and out of gendarmes delivers constant changes. Because of the mixed climbing nature of this climb, it is best done when covered with snow. With recent late season storms, this route is in excellent condition. The line up Casaval Ridge is aesthetically stunning as well, providing a birds eye view of the popular Avalanche Gulch on one side, and the less popular Hidden Valley and Shastina on the other. Expect to hone your ice-axe and crampon skills, and learn a few snow camping tricks while you're at it.

Casaval Ridge


May 8-10, 2009

(Fri-Sun)







We look forward to skiing with you and helping you achieve your goals. If you can't find the answer to a question on our website, don't hesitate to give us a call.

Sincerely,
Bela & Mimi Vadasz
Directors
Alpine Skills International
530-582-9170