Upcoming Programs

Conditions Updates

Tech Tips


Mimi Vadasz
Adminstrative Director
AMGA Certified
Ski Mountaineering Guide


Bela G. Vadasz
Technical Director
IFMGA Certified Guide
Mar 24, 2009
Friends of ASI


April is traditionally the beginning of skiing's second season. Whereas the focus of winter skiing is powder, spring skiing is for core skiers who know that NOW is the time to ski the big lines and high peaks because 1) the snow depth is maxed, 2) the avalanche danger is typically low, and 3) the weather is fair, especially in sunny California.

One of the conditions of spring skiing is the inevitable call of spring, when dormant vegetation breaks out in bloom. It's nearly impossible to not revel in the warmth and shift our focus to summer activities. Who can deny the call?

Up here in the mountains though the snow lingers. Conditions are prime
for longer trips and more committing lines. Which is why we wait until now to schedule our trips to the Eastern Sierra. With warm temps in the valleys, it's a perfect opportunity for doing one and two day descents of peaks like Mt. Whitney, Mt. Tom, or Tioga Pass. Camp decadence is the norm along 395. Visits to hot tubs, Coleman stoves cook dinner and coolers are filled with beer. Packs are small for day trips, and bivvy's the norm for overnight trips to keep the weight down and the vertical high.

California's gentle spring temperatures also make longer trips easier. If you've never experienced spring skiing in the high Sierra, and you don't go this year, you'll only be older when you do. For those who want to join us on the Sierra High Route, the classic six day crossing of the Sierra Nevada, we recommend a warm up with our two-day tour from Sugar Bowl to Squaw. Conditions are prime right now, and there's a tour this weekend.

Go ahead and enjoy a warm bike ride, or trail run as the season shifts gears. Then wax up your skis and join us somewhere soon on a spring ski tour.







Sugar Bowl To Squaw Valley Tour


This is the perfect warm up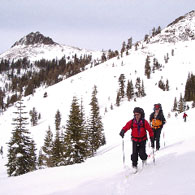 for longer Sierra ski tours such as the Sierra High Route, the Evolution Loop, or maybe a Private Tour you've been scheming. With 20 years experience on this route, we know the most efficient line between these two Tahoe resorts that allows for dramatic views and awesome turns. A single overnight snow camp will help you acquire important snow camping tips and travel techniques.

Sugar Bowl To Squaw Valley


Mar 28-29, 2009

(Sat-Sun)









Steep Camps


For the ultimate backcountry thrill -
skiing extremely steep couloirs - you need huevos and skill. Our steep camps will hone your skiing skills on steep terrain to give you the confidence and poise you need. Learn proper techniques for ascending and descending, where mistakes are not suffered lightly.

Buttermilk Steep Camp


Apr 25-26, 2009

(Sat-Sun)



Mt. Shasta Steeps


May 2-3, 2009

(Sat-Sun)




May 9-10, 2009

(Sat-Sun)



Palisades Ski Extrême


May 16-19, 2009

(Sat-Tue)









Eastern Sierra 2-Day Descents


Any skier who has driven California's Hwy. 395
feels like a kid looking thru the windows of a candy store. The possibilities are mind boggling. Not only do we have the keys to the candy store, we also know where the best candy is. After guiding for 30 years, these are some of our faves. Or maybe there's a peak not listed that you've lusted after for years. We're just as open to leading private trips with parties of 2 to 6 to the peak of your choice.

Mt. Whitney


Apr 4-5, 2009

(Sat-Sun)




Apr 25-26, 2009

(Sat-Sun)



Mt. Tom


Apr 18-19, 2009

(Sat-Sun)



Mt. Dade


May 2-3, 2009

(Sat-Sun)




May 9-10, 2009

(Sat-Sun)



Tioga Pass


May 30-31, 2009

(Sat-Sun)









Sierra High Route


The premier Trans-Sierra high-level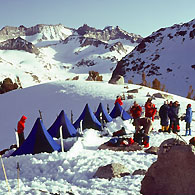 route! This six-day ski mountaineering traverse of the Sierra Nevada holds an elegant line between 10,500' and 13,000' while threading nine high cols and passes. We ski high ridges, passes, cirques, and glaciated plateaus, reveling in breathtaking views and superb downhill runs.

ASI guides a double High Route: one group begins on the east side of the Sierra, the other on the west. Meeting halfway, we share the evening in celebration. If you love the high mountains and enjoy leaving your tracks in sun-warmed corn snow, you will understand why the Sierra High Route has become the standard by which we compare all other ski adventures!

Sierra High Route


May 2-7, 2009

(Sat-Thu)







We look forward to skiing with you and helping you achieve your goals. If you can't find the answer to a question on our website, don't hesitate to give us a call.

Sincerely,
Bela & Mimi Vadasz
Directors
Alpine Skills International
530-582-9170