CONTENTS


YEAR OF THE ICE AXE
ASI ON FACEBOOK
SNOW & ICE CLIMBING
SIERRA MOUNTAINEERING
MT. SHASTA
MT. WHITNEY
ROCK CLIMBING
INTERNATIONAL
TECH TIP
CLASSIC READING



Mimi Vadasz
Adminstrative Director
AMGA Certified
Ski Mountaineering Guide


Bela G. Vadasz
Technical Director
Internationally Licensed
Mountain Guide

Upcoming Programs

Conditions Updates

Tech Tips
June 28, 2011
Greeting Friends of ASI!



YEAR OF THE ICE AXE

:
With the great snowpack in the High Sierra and Mt. Shasta, it brings back our love for the ice axe and the summer snow climbing skills. No matter where you go in the high country this summer, you'll encounter some snow. Why not be skilled with your ice axe to secure your movement?


In the late 70's, we made our first trips back to the Alps as young adults. We quickly learned the need for really good snow and ice climbing skills in the high mountains. Yvon Chouinard (founder of Chouinard Equipment & Patagonia) just came out with his book, "Climbing Ice". It was the last word on progressive snow and ice technique. Year after year, the plentiful snowpack in the Sierra allowed us to bring the skills back to our home range, perfect them, then take them to the greatest ranges of the world.



ASI ON

:
Yes, we finally joined the ranks and created our Facebook page. We hope you check it out and "Like" our page. We will be posting Photos, Videos, Trip Reports, Tech Tips, etc. We encourage you to contribute too!







SNOW & ICE CLIMBING

:
We developed the most thorough snow climbing program in the country, taking what we learned from our peers and mentors including André Contamine, Yvon Chouinard, Doug Robinson, Chris Jones, George Lowe, Jeff Lowe and others.

Climbing snow & ice since 1969



The most thoroughly developed Snow School in America!

We're ready to sleeve our piolet (ice axe) behind our pack strap, in alpine style, ready to brace a self-belay, cut a step or two and move in-balance with the security of our tool.

Intro To Snow Climbing


Donner Pass




July 2, 2011

(Sat)




July 9, 2011

(Sat)


Look for more dates on Tioga Pass later this season!







FEATURED COURSE

:

SIERRA MOUNTAINEERING

NEW!


We have taken over 50 years of climbing in the High Sierra and 35 years of teaching climbing and made a special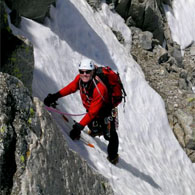 new 2-day course on Tioga Pass called Sierra Mountaineering. Making the best use of your precious time, it fits the most important rock and snow climbing skills into a practical, useful and fun weekend format in the High Sierra. It's destined to become our new "favorite" course.

Sierra Mountaineering


July 30-31, 2011

(Sat-Sun)




Aug 20-21, 2011

(Sat-Sun)




Sep 3-4, 2011

(Sat-Sun)






MT. SHASTA
:
Class 3
All the snow covers the loose scree, making it a great year to climb this magnificent summit. With an ASI Guide, you'll climb in elegant, tasteful alpine style with good form. It's a mighty mountain that is within many climbers' reach.

Shasta Summit Climbs


July 11-12, 2011

(Mon-Tue)

1 Spot




July 16-17, 2011

(Sat-Sun)

Full




July 23-24, 2011

(Sat-Sun)

3 Spots






MT. WHITNEY
:
Class 3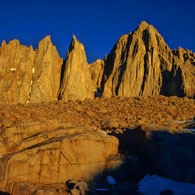 The Mountaineer's Route is in great demand. We are very closely regulated by the Federal Government, allowing a limited number of people to be guided on this route. We have a few spots left on this summer's climbs. Signup now to get a spot!

Mt. Whitney, The Mountaineer's Route


July 23-24, 2011

(Sat-Sun)

2 Spots




Aug 6-7, 2011

(Sat-Sun)

1 Spot




Sep 24-25, 2011

(Sat-Sun)

2 Spots






ROCK CLIMBING AT DONNER PASS
:
Despite the snow, the rock is dry and climbing conditions are perfect! The most popular programs, for all abilities include:

Summer Rock Climbing Specials
This summer, we put together a series of rock climbing specials to help you and your family (or group) get on the rock and climb. Take advantage of these fantastic opportunities:
Family Rock Climbing
Group Rock Climbing
Top Ropin' Tuesdays

9-Step Progression
The ASI Rock Climbing Program is a unique one-of-a-kind total progression of simple and convenient one-day courses to teach all aspects of recreational rock climbing.



INTERNATIONAL
: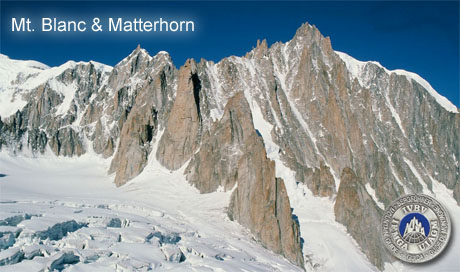 ASI and IFMGA Guide, Ben Mitchell, has left for Chamonix, France for guiding a string of climbs in the West Alps. We have put together two fine tours to climb Mt. Blanc and the Matterhorn. No better time than this season...

Mt. Blanc & Matterhorn

Aug 4-12, 2011

TECH TIP
:
Antibott For Your Crampons
By: Bela G. Vadasz
Antibott devices help keep snow from balling up your crampons. In unconsolidated, soft snow or transitional snow, it can build up and clog your crampons, keeping the points from biting.

The best antibotts are made of soft rubber-like plastic with a flexible panel that "pops" with each step to help keep the snow from building. They add a little more weight and can get pretty worked when climbing lots of rock with crampons. Most antibott devices are removable during the dry spells, then can be put back on for softer snow climbs. Antibotts are a good thing when changable conditions are encountered and it's less practical to take crampons off and on multiple times a day.



CLASSIC READING
:
Climbing Ice
By: Yvon Chouinard

Chouinard came out with Climbing Ice in 1978. It brought the study of the art of French Technique to the US. It's an in-depth look at progressive alpine style climbing that changed the way we Americans performed in the mountains. It's full of timeless anecdotes that make it a "must read" for even today's budding alpinists.







We look forward to climbing and skiing with you and helping you achieve your mountain dreams. If you can't find the answer to a question on our website, don't hesitate to give us a call.

Sincerely,
Bela & Mimi Vadasz - ASI Directors
Alpine Skills International
bela@alpineskills.com
530-582-9170