CONTENTS


Sidecountry Finale
ROAD TRIP
Buttermilk Steeps
Palisades Couloir Camp
Intro To Snow Climbing



Mimi Vadasz
Adminstrative Director
AMGA Certified
Ski Mountaineering Guide


Bela G. Vadasz
Technical Director
IFMGA Certified Guide

Upcoming Programs

Conditions Updates

Tech Tips
Apr 15, 2011





Greetings Friends of ASI!


Unseasonal snowpack, warm days and cold nights are providing fantastic spring conditions. We're skiing things we haven't been able to since we first skied them in the 80's. New routes and first descents are going on in areas considered unimaginable. We're adding a few more spring trips to take advantage of these fabulous conditions.



Tip for Spring:


If you think you've had enough skiing, take a break, put on your shorts and flip-flops. Go for a bike ride, casual climbing or a white water trip. But, come back for at least one more high-mountain ski adventure and you'll realize how fantastic the experience is. Remember, it takes high 80 and 90 degree temps in the Central Valley before the snow consolidates and "corns up" in the High Sierra and Mt. Shasta. You'll be glad you came back for one more...



SIDECOUNTRY SEASON FINALE - Apr 23rd
: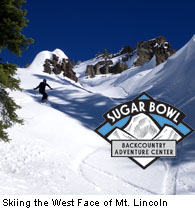 Enjoy Sugar Bowl's great lift-accessed backcountry skiing during epic spring conditions! Ski the resort, backcountry or a guided day with us on Sat, April 23rd, the day before Easter.

We'll have a farewell party with Free Beer N' Brauts on the grill (or chicken & wine) here at the Back Country Adventure Center. We will also be happy to answer questions about ASI spring and summer programs as well. Come by and see Bela, Mimi and the ASI Team to say hi, celebrate our spring season and join the fun!

Sidecountry Season Finale


Apr 23, 2011

(Sat)





NEW!
ROAD TRIP
: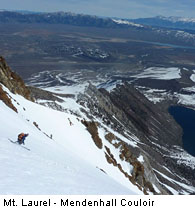 We have put together a new Eastern Sierra Road Trip in conjunction with Mike Schwartz and The Back Country mountaineering shop. We will be meeting on the evening of Friday, Apr 29th, loading up The Back Country Van and traveling down Hwy 395. We'll ski the best day-routes and camp along the way. This is a great opportunity to ski fresh lines in amazing Eastern High Sierra terrain with a guide. Don't miss out!

ROAD TRIP, Eastern Sierra


Apr 29 (eve) - May 2, 2011

(Fri-Mon)





Buttermilk Steeps Camp
:
Our steep camps will hone your skiing skills on steep terrain to give you the confidence and poise you need. Learn proper techniques for ascending and descending, where mistakes are not suffered lightly.

From a comfortable springtime car camp, we'll climb and ski the Wahoo Gullies on Mt. Lock and The Clyde Couloir on Mt. Emerson.

Routes may vary



Buttermilk Steeps Camp


Apr 22 (eve) - Apr 24, 2011

(Fri-Sun)





Palisades Couloir Camp
:
This is the year to ski the classic couloirs of the Palisades! Great snowpack with everything filled in, good travel on the approach and marvelous rock chute skiing on the descent. This is our boldest ski trip in the Sierra.

Be sure you're solid on 40° steeps and good with your skins. Previous experience with ice axe and boot crampons and excellent physical condition are prerequisites.

Palisades Couloir Camp


May 14-17, 2011

(Sat-Tue)





Intro To Snow Climbing:
Donner Pass


The most thoroughly developed Snow School in America!

This is much more than just learning to self-arrest with your ice axe. Since 1969, Bela & Mimi Vadasz have studied French, Swiss, German and American technique. This unforgettable skills day teaches the most useful and valuable techniques with ice axe, crampons and rope to climb in functional, elegant alpine style on your next adventure.

Intro To Snow Climbing:


May 14, 2011

(Sat)







We look forward to climbing and skiing with you and helping you achieve your mountain dreams. If you can't find the answer to a question on our website, don't hesitate to give us a call.

Sincerely,
Bela & Mimi Vadasz - ASI Directors
Alpine Skills International
530-426-7005
530-582-9170