CONTENTS


Upcoming Programs
Transceivers For Sale
Spring East Sierra & Shasta
Featured Book

Upcoming Programs

Conditions Updates

Tech Tips


Mimi Vadasz
Adminstrative Director
AMGA Certified
Ski Mountaineering Guide


Bela G. Vadasz
Technical Director
IFMGA Certified Guide
April 2, 2010



It's technically spring, but the recent snow (almost 3 feet in 3 days), winter is creeping back into full swing. The skiing has been amazing with this recent refreshing of the snowpack and it's time to get out there for Spring - skiing's second season!

The corn snow skiing will be unbelievable at least through May. Put on your shorts and flip flops and wear them to the trailhead for fantastic adventure.



Upcoming Programs
Sidecountry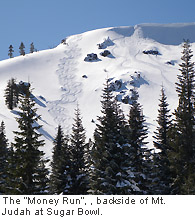 Lift accessed backcountry skiing and splitboarding with touring bindings and climbing skins to get backside runs of the region's high crest. Get a group of 3 together and make your own date!

Mt. Rose Tamarack Tour
We added one more date to get you out there for a follow-up tour up on Mt. Rose. The higher elevation and amazing terrain has been host to one of our most popular backcountry skiing programs.

Apr 10, 2010

(Sat)


Apr 11, 2010

(Sat)







ORTOVOX X1 Avalanche Transceivers For Sale
We are selling our Ortovox X1's. These are the units we use for our backcountry skiing programs. They are all under warranty and were recently tested (by Ortovox) and passed with flying colors.
Automatically transmits when worn
Second generation 3 antenna model, same as current Patroller
Combination analog, 70 meter range and digital, 40 meter range with distance display
Solid switch from Transmit to Search
Sold As Is, box not included
Cost per unit is $125, plus $5 shipping
Or $100 each for 3 or more.

Call 530-582-9170 to get yours.

Sold Out - As of Apr 7th



Spring East Sierra & Shasta Programs
Buttermilk Steeps Camp
For the ultimate backcountry thrill - skiing extremely steep couloirs - you need huevos and skill. Our steep camps will hone your skiing skills on steep terrain to give you the confidence and poise you need. Learn proper techniques for ascending and descending, where mistakes are not suffered lightly.

From a comfortable springtime car camp, we'll climb and ski the Wahoo Gullies on Mt. Lock and The Clyde Couloir on Mt. Emerson.

Buttermilk Steeps Camp
Apr 24-25, 2010

(Sat-Sun)





Sierra High Route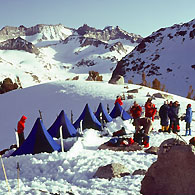 The premier Trans-Sierra high-level route! This six-day ski mountaineering traverse of the Sierra Nevada holds an elegant line between 10,500' and 13,000' while threading nine high cols and passes. We ski high ridges, passes, cirques, and glaciated plateaus, reveling in breathtaking views and superb downhill runs.

ASI guides a double High Route: one group begins on the east side of the Sierra, the other on the west. Meeting halfway, we share the evening in celebration. If you love the high mountains and enjoy leaving your tracks in sun-warmed corn snow, you will understand why the Sierra High Route has become the standard by which we compare all other ski adventures!

Sierra High Route
May 1-6, 2010

(Sat-Thu)







Mt. Shasta, Hidden Valley Basecamp
There are very few places in the world that offer the length and variety of ski descents that Mt. Shasta offers.
On a clear day you can see more than 100 miles in every direction from the summit, and theoretically, you can ski in any direction for over 7,000 vertical feet. Our favorite tour is to camp away from the crowds at Hidden Valley. This puts us in perfect postion to climb and ski one of Shasta's longest, sustained pitches, or the option to ski off Shastina as well.

Hidden Valley Basecamp
May 15-17, 2010

(Sat-Mon)


May 29-31, 2010

(Sat-Mon)





Featured Book - Manual of Ski Mountaineering
by David Brower
This book was ASI Director, Bela Vadasz'z bedside bible as a teenager. it was the written word of the day that fused the spirit between skiing and climbing. The great black and white photos of Donner Pass, the High Sierra and the European Alps were nothing less than the greatest inspiration to young Vadasz.

The book is displayed on the bookcase next to the fireplace at the ASI Backcountry Adventure Center for you to enjoy.





We look forward to skiing with you and helping you achieve your goals. If you can't find the answer to a question on our website, don't hesitate to give us a call.

Sincerely,
Bela & Mimi Vadasz - ASI Directors
Alpine Skills International
530-582-9170