CONTENTS


SUGAR BOWL BACKCOUNTRY
UPCOMING COURSES
SIERRA AVALANCHE CENTER
DONNER ICE CLIMBING
TECH TIP
SIERRA HIGH ROUTE
SPITSBERGEN
ASI FACEBOOK



Mimi Vadasz
Adminstrative Director
AMGA Certified
Ski Mountaineering Guide


Bela G. Vadasz
Technical Director
Internationally Licensed
Mountain Guide

Upcoming Programs

Conditions Updates

Tech Tips
Mar 16, 2012
Greetings Friends of ASI:



"La Nina - neutral"


What anticipation it's been waiting for it to snow. The recent storm finally set us up for good skiing here at Sugar Bowl and in the backcountry. We're also enjoying local ice climbing and avalanche courses, which are in full force.

Come by the Backcountry Adventure Center and join us for a hot drink and get ready for some skiing and climbing. Also, we have a full fleet of XC Classic & Skate Skis for rent for our guests on the Village Cross-Country Track.



SUGAR BOWL BACKCOUNTRY
: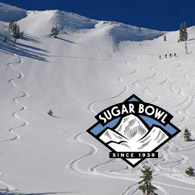 Our workhorse winter program, also known as "Sidecountry", offers endless acres of backcountry terrain off the backsides of Sugar Bowl's summits. Tactfully combining lift use with pleasant uphills (using touring bindings and climbing skins), we connect fantastic downhill runs throughout the day.

This is an action-packed, super fun program that always leaves skiers and snowboarders smiling at the end of the day!

Sugar Bowl Backcountry


Jan 28, 2012

(This Saturday!)





UPCOMING COURSES
:
These "Sunday Routes" are a perfect follow-up day to apply the skills you learned on your Intro/Sugar Bowl Backcountry course. These tours are also for skiers & splitboarders with previous backcountry experience to join:

Mt. Rose Tamarack Tour


Jan 29, 2012...

(Sun)



Castle Peak Tour


Feb 12, 2012...

(Sun)



Anderson Ridge Tour


Feb 19, 2012...

(Sun)





SIERRA AVALANCHE CENTER
:
We are very fortunate to have an excellent daily Avalanche Advisory available for Tahoe National Forest. This high quality daily forecast is the corner stone for decision making for both Certified Professional Guides as well as recreational users in the backcountry.

SAC operates on a non-profit status in partnership with the US Forest Service. Please consider making an annual donation to help keep this important Advisory going.



DONNER ICE CLIMBING
:
The Donner Ice Program is designed to complement our June Lake & Lee Vining Canyon weekend program. We offer simple, easy access day-courses that don't require a complete trip around the Sierra to go ice climbing.

These include a series of programs for first time ice climbers on to more experienced climbers looking for greater challenges and developing new skills.

Call For Details...
530-426-7005



TECH TIP - Ice Climbing, Resting Effectively
:
Bela G. Vadasz
On steep ice, rest and recovery during your climb can be paramount. With modern leash-less tools like the Black Diamond Fusion, you can release your grip, drop your hand below your heart and "shake it out".

From a good stance, flex your ankles and knees to bring your hips and center of mass over your front points. Keep your heels low and crampons flat. This forms a good anatomical rest for your entire body as you let blood flow back you your hands.



SIERRA HIGH ROUTE
:
The premier Trans-Sierra high level route. This is an unbelieveable 6-day ski adventure that makes time feel like its standing still. Beautiful High Sierra scenery, vast, remote wilderness setting, wonderful skiing along the way...all combined to create an adventure of a lifetime!

With the experience of 46 crossings, we do this amazing trip in elegant "High & Light" style, pioneered by ASI with real Certified Guides. An amazing experience you'll never forget.

Check out this recent LA Times article:
"Covering the Sierra High Route by Ski"

Sierra High Route


May 6-11, 2012

(Sun-Fri)









SPITSBERGEN

:
This May, we are partnering with Ice Axe Expeditions, offering remote ski mountaineering, breathtaking views and amazing wildlfe. The entire trip is based from our 12 passenger sailboat acting as our floating hut, traveling to a new ski destination each day. Enjoy more of Keoki Flagg's photos from last year's trip.



Contact Bela G. Vadasz for more details on this year's trip.

Arctic Ski Cruise - Spitsbergen, Norway


May 17-25, 2012

(Thu-Fri)




May 24 - June 1, 2012

(Thu-Fri)





ASI ON

:
Check out the ASI Facebook Page for the latest Photos, Videos, Trip Reports and Tech Tips. Please contribute too, as we love to see you post your own photos and comments!





We look forward to climbing and skiing with you and helping you achieve your mountain dreams. If you can't find the answer to a question on our website, don't hesitate to give us a call.

Sincerely,
Bela & Mimi Vadasz - ASI Directors
Alpine Skills International
bela@alpineskills.com
530-582-9170



Operating on a non-discriminating basis under Special Use Permit, Inyo National Forest, Tahoe National Forest, Shasta/Trinity National Forests, Eldorado National Forest, Sequoia/Kings Canyon National Parks.