Upcoming Programs

Conditions Updates

Tech Tips


Mimi Vadasz
Adminstrative Director
AMGA Certified
Ski Mountaineering Guide


Bela G. Vadasz
Technical Director
IFMGA Certified Guide
Feb 3, 2009
Friends of ASI


From afar it would seem snow conditions in the Tahoe area are slim. By the numbers there is no denying the snow pack isn't very deep. However, that hasn't stopped the fun. Once again the normal consolidation of our maritime snowpack is yielding some magical benefits. Even though there has only been one significant storm in the Tahoe area this season, and it has settled since then, it has remained cold so that thin base is holding fast. We received 8-12 inches a week ago above 8,000 feet and miraculously the northern faces have stayed cold and out of the sun so the snow remains soft, and where it is still untracked, even fluffy light -- an unexpected delight.

Recent grads of our AIARE Level 1 Plus course were psyched to ski in this unexpectedly good snow and see some unusual stratification in the pits while sharpening their avalanche eyes. If you want to get smarter about avoiding avalanches we hope you will join us during the next Level 1 or 2 course.

If you're staying home because you think it's just hard snow, you've been making too many turns in bounds. Time to spread your wings and enjoy some real skiing. If you've never gone, we offer introductory courses in all disciplines, alpine, snowboard, and telemark. Or maybe you have a friend who you want to turn on, but don't want to be the teacher. Our intro level courses are priced like a bro' deal. All the equipment is included, plus a whole day of instruction. We train 'em so you can just enjoy touring with 'em.

If we don't see you in one of our classes, we at least hope to cross paths on snow in the very near future.



Tech Tip: Emergency Tip Loop for Skins
What do you do if the tip loop on your climbing skin breaks in the middle of a tour? If you anticipated this weakness and have a spare you can easily swap it out. If you don't, most skiers at least have one of those rubber ski straps. You can use that instead. Simply unfold the flap of skin at the leading edge and substitute the rubberized Voile strap.







Improve your Skiing!


Take your skiing to the next
level with our many telemark and alpine ski improvement courses. If anyone can help you improve, renowned instructors like Geoff Clarke, Lorenzo Worster, Eric DesLauriers, and Bela Vadasz ought to be able to share useful tricks. No matter what course you take, you will learn proven free-skiing technique for all conditions and terrain.

Advanced Telemark w/ Geoff Clarke


Feb 8, 2009

(Sun)




Mar 1, 2009

(Sun)



Telemark Freeride w/Lorenzo Worster


Call



Telemark Freestyle w/Lorenzo Worster


Feb 14, 2009

(Sat)



Ski the Whole Mountain


Feb 28 - Mar 1, 2009

(Sat-Sun)









Ski Mountaineering Techniques


Take your skiing to the outer
limits by adding the technical know how of alpinists. Highly recommended for those heading to the highest peaks of the Sierra Nevada, or any mountain with glaciated terrain. We cover the use of ice axe for security while climbing or as a belay tool, crampons for ascending steep, or icy snow, rope for glacier travel, or skiing on belay, plus climbing skills for mountains of steep, deep, wicked fun.

Ski Mountaineering Techniques


Feb 15, 2009

(Sun)




Mar 1, 2009

(Sun)




Mar 15, 2009

(Sun)










The European Haute Route


This is THE classic ski tour
of the world and THIS year Europe is getting lots of snow. Imagine skiing across the roof of Europe, from Frances' Chamonix Valley, the capitol of world alpinism, to Zermatt, at the foot of the majestic Matterhorn. Each night we lodge in a different hut, enjoying international camaraderie. By day we ski across glaciers, though passes, bagging peaks and skiing their flanks to the next nights lodge. Seven days of spectacular mountain beauty and culture; unquestionably the trip of a lifetime, and one worth repeating. More details here.

European Haute Route


Mar 3 - Apr 7, 2009

(Mon-Tue)




Apr 20-28, 2009

(Mon-Tue)









Intro to XCD Skiing


XCD means cross country downhill.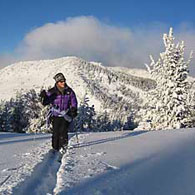 We travel across rugged (not radical) terrain with gear that is light enough to make serious distance, and beefy enough for occasional turns while learning cross-country ski techniques and basic downhill turn skills. Having spectacular scenery to ski through is common too!

Intro to XCD Skiing


Feb 14, 2009

(Sat)




Mar 7, 2009

(Sat)







We look forward to skiing with you and helping you achieve your goals. If you can't find the answer to a question on our website, don't hesitate to give us a call.

Sincerely,
Bela & Mimi Vadasz
Directors
Alpine Skills International
530-582-9170