Upcoming Programs

Conditions Updates

Tech Tips


Mimi Vadasz
Adminstrative Director
AMGA Certified
Ski Mountaineering Guide


Bela G. Vadasz
Technical Director
IFMGA Certified Guide
Mar 3, 2009
Friends of ASI


The last few days have seen quite a few changes to the snowpack in the Sierra, and in particular the Tahoe area. During a recent AIARE Avalanche Level 1 course rain was forecast throughout the class, but luck was on our side and it snowed consistently above the 6500 foot level through Monday.

Since then we've received even more snowfall (over 3 ft.!) in classic Tahoe fashion. When we say classic, we mean a storm that comes in wet, bonds well, redlines the avy danger, and then ends with a cold snap for an unparalleled, bottomless powder experience.




As a result, we've just added another AIARE Level 1 class later this month. It also means that many of the spring trips we offer, and maybe you've been skeptical about, will now have plenty of snow to guarantee they go, including our many one and two day ski descents on the east side of the Sierra Nevada, the Sierra High Route, and a local classic, the Sugar Bowl to Squaw tour. If you've been blaming the lack of snow for not getting into the backcountry this season, that excuse won't fly anymore.

If our standard courses and tours don't fit with your specific aspirations, maybe you should consider scheduling a Private Lesson or tour with one of our certified guides. Don't wait too long, the snow may last until May, but it won't remain fresh forever.

We look forward to crossing paths with you if you come up this weekend. With or without us, ski safe and have fun.







Sugar Bowl To Squaw Valley Traverse


THE classic tour of North Tahoe.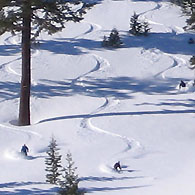 We start with a boost from Sugar Bowl's Lincoln chair then head southeast along the crest of Anderson Ridge leading to Squaw Valley at the end of the second day. Along the way we link great ski descents with picturesque, easy climbs. At night we camp in the snow, and throughout we refine our skills in preparation for bigger tours, such as the Sierra High Route. This is the perfect primer for that or other more committing ski tours.

Sugar Bowl To Squaw Valley


Mar 14-15, 2009

(Sat-Sun)




Mar 21-22, 2009

(Sat-Sun)




Mar 28-29, 2009

(Sat-Sun)









Steep Camps


For the ultimate backcountry thrill -
skiing extremely steep couloirs - you need huevos and skill. Our steep camps will hone your skiing skills on steep terrain to give you the confidence and poise you need. Learn proper techniques for ascending and descending, where mistakes are not suffered lightly.

Buttermilk Steep Camp


Apr 25-26, 2009

(Sat-Sun)



Mt. Shasta Steeps


May 2-3, 2009

(Sat-Sun)




May 9-10, 2009

(Sat-Sun)



Palisades Ski Extrême


May 16-19, 2009

(Sat-Tue)









NEW! - AIARE Avalanche Level 1 PLUS


Take all the elements of the renowned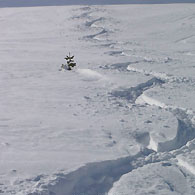 AIARE Level 1 course and add an extra day of field time. This allows us to delve deeper into the whole backcountry experience and share tips on navigation, track setting, kick turns, and emergencies beyond avalanche rescue. Think of it as the ultimate backcountry skiing course with avalanche skills included - or vice versa.

AIARE Avalanche Level 1 PLUS


Mar 7-10, 2009

(Sat-Tue)










Sierra High Route


The premier Trans-Sierra high-level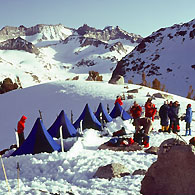 route! This six-day ski mountaineering traverse of the Sierra Nevada holds an elegant line between 10,500' and 13,000' while threading nine high cols and passes. We ski high ridges, passes, cirques, and glaciated plateaus, reveling in breathtaking views and superb downhill runs.

ASI guides a double High Route: one group begins on the east side of the Sierra, the other on the west. Meeting halfway, we share the evening in celebration. If you love the high mountains and enjoy leaving your tracks in sun-warmed corn snow, you will understand why the Sierra High Route has become the standard by which we compare all other ski adventures!

Sierra High Route


May 2-7, 2009

(Sat-Thu)







We look forward to skiing with you and helping you achieve your goals. If you can't find the answer to a question on our website, don't hesitate to give us a call.

Sincerely,
Bela & Mimi Vadasz
Directors
Alpine Skills International
530-582-9170