Oct 5, 2011
Dear Friends of ASI:



FIRST SNOW OF THE SEASON!

:
Wow, here we go. A Winter Storm Warning and a good cold front, which more than dusted the Sierra. Early snow is always a good sign. Sure, it can melt off quickly and just set off "Indian Summer" for some more climbing time. Or, it can keep on comin', then we ski. In any case, looking back historically, whenever we had a good, early snowfall, we usually had a good, full-valve winter!



WILDERNESS FIRST AID/CPR
: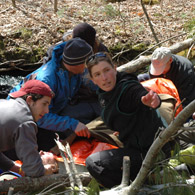 You don't need it til you need it! This is the perfect course to help prepare you for the inevitables that occur in the backcountry. It's 2 days during the "shoulder season" and taught by one of the best First Aid Instructors we've ever worked with, Bill Seline. You'll also get your CPR training and certification with it as well. You'll feel better being prepared if there is an emergency.

Wilderness First Aid/CPR
Nov 19-20, 2011

(Sat-Sun)





ANTARCTICA ADVENTURE CRUISE
:
We have partnered with our colleague, Polar Explorer and Ski Mountaineer, Doug Stoup and his company, Ice Axe Expeditions, for some amazing ski cruise trips to the Polar Regions.

ASI IFMGA Guides, Bela Vadasz & Ben Mitchell are leaving to guide ski mountaineering on the Antarctic Peninsula Adventure Cruise this November 8-20th. This is an amazing trip we're all looking forward to. The trip is full this year, with another being offered in 2013.







SPITSBERGEN NORWAY SKI TOURING

:
This Spring, there will be another spectacular trip to the island of Spitsbergen, north of Norway (just 600 miles from the North Pole). Contact bela@alpineskills.com with your interest in this expedition. Check out the video of last year's trip.








AIARE AVALANCHE EDUCATION

:
The ASI AIARE Avalanche Level 1 has become the cornerstone of the winter program. Much more than just an avalanche course, the curriculum that now has evolved for
over 30 years ties together many aspects of backcountry travel and related skills to help your well being in avalanche terrain.

These programs are taught by an elite group of highly experienced
Ski Mountaineering Guides. They are passionate about the snow and your learning of the snow craft. All the knowledge comes back to practical, "real time" application of when we are out there in the snow.





AIARE Avalanche Level 1 & Level 1 PLUS
Signup early, they all fill-up fast! December is an excellent time to get your education in. It doesn't take much snow to run a great course. Then, you're set for the rest of the season, when the free-riding really gets good.


AIARE Avalanche Level 1
Dec 3-5, 2011

(Sat-Mon)


Dec 9-11, 2011

(Fri-Sun)


Jan 14-16, 2012

(Sat-Mon - MLK Weekend)


Jan 21-23, 2012

(Sat-Mon)


Feb 4-6, 2012

(Sat-Mon)


Feb 10-12, 2012

(Fri-Sun)


Feb 18-20, 2012

(Sat-Mon - Presidents)


Mar 10-12, 2012

(Sat-Mon)



AIARE Avalanche Level 1 PLUS
Dec 27-30, 2011

(Tue-Fri)


Jan 27-30, 2012

(Fri-Mon)


Mar 9-12, 2012

(Fri-Mon)







Already Done an Avalanche Level 1?
Consider our 1-Day REFRESH. Pickup the latest upgrades of information. Practice your application of the variation of the Level 1 skills. Remember, they take years to master. The snow changes all the time.

AIARE Avalanche Level 1 REFRESH
Dec 3, 2011

(Sat)


Jan 8, 2012

(Sun)


Feb 19, 2012

(Sun)







Ready For Avalanche Level 2 This Year?
You've been in the snow since your Level 1. You know there's more as part of your continuing education. Maybe it's time for Level 2. The AIARE Level 2 program is a 4 day/40hr. program that provides backcountry leaders the opportunity to advance their avalanche knowledge and decision making skills.

AIARE Avalanche Level 2
Jan 7-10, 2012

(Sat-Tue)


Feb 25-28, 2012

(Sat-Tue)





WIN A BLACK DIAMOND HEADLAMP ON

:
"Like" our Facebook page for a chance to win a
Black Diamond Ion Headlamp. This is a great emergency light to always have in your pack. Those who "Like" our page will be entered in our October 31st Drawing. The winner will be announced in our November Newsletter!



GEAR WE LIKE
:
The long awaited Brooks Range Alpini sleeping bags are here! 850+ fill down, super soft and slinky, yet moisture repellent fabric. The cut is just right, roomy enough to fit your thicker pajamas (sleeping in your puff jacket) and the craftsmanship is excellent. The 30&deg is the perfect High Sierra summer bag and the 15&deg will be great during the snowy season.

With a mini sil stuff or compression sack, even the 15&deg will compress down to the size of an overgrown softball. Great for the ASI tiny pack High & Light theory.





We look forward to climbing and skiing with you and helping you achieve your mountain dreams. If you can't find the answer to a question on our website, don't hesitate to give us a call.

Sincerely,
Bela & Mimi Vadasz - ASI Directors
Alpine Skills International
bela@alpineskills.com
530-582-9170



Operating on a non-discriminating basis under Special Use Permit, Inyo National Forest, Tahoe National Forest, Shasta/Trinity National Forests, Eldorado National Forest, Sequoia/Kings Canyon National Parks.