Friends of ASI


It's looking an awful lot like a white Christmas here in Tahoe this year. It snowed last night, and the forecast is even better, with at least a foot of light fluffy snow due throughout the Sierra on that special morn. If you haven't made plans yet to ski, maybe it's time you did.




In the meantime, we at Alpine Skills International want to take a moment to thank you for your patronage and interest. We hope you are able to break away, meditate on what matters, and enjoy the holiday. May you be blessed in the coming season.

Merry Christmas,
Bela & Mimi Vadasz
Directors
Alpine Skills International
530-582-9170







Dec 3, 2008



Happy Holidays!
In our last newsletter I spoke about the unpredictability of snow and judging a season prematurely. Not only does that apply when looking at a season from an overall perspective, but also on the micro level, for a specific storm in a specific region.

As of Saturday, December 13th, the forecast for the Tahoe area was looking good for skiers like you and me. The question always is, how much will really fall? We don't know, but we have found that some weather sites are more accurate than others. The image below shows an estimate of what kind of snowfall was predicted by the time you receive this. We share this for two reasons. First, to let you know it looks like the season is finally about to begin. If you've been holding off registering for classes in December, the wait may be over.




Of course, that depends on how much actually falls. Which is the second reason we're notifying you. To see if the predictions match up with reality after the storm has passed.

As of today, Monday, December 15th, it appears the predictions were off a bit. Off in the way skiers like. Five to 10 cm of snow was predicted by Monday morning. By midday 18 inches (45 cm) had fallen at the 6000 foot level, about four times the forecast. It's time to wax your skis, and double check your pack so you're ready to make turns at a moments notice. Senior Guide, Tom Carter, has a saying: "We know what it's like to not go skiing." The wait is over. If we don't see you in one of our classes, we at least hope to cross paths on snow in the very near future.
- Craig Dostie







NEW! - AIARE Avalanche Level 1 PLUS


Take all the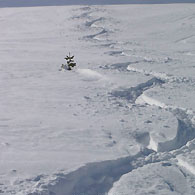 elements of the renowned AIARE Level 1 course and add an extra day of field time. This allows us to delve deeper into the whole backcountry experience and share tips on navigation, track setting, kick turns, and emergencies beyond avalanche rescue. Think of it as the ultimate introduction to backcountry skiing with avalanche skills included - or vice versa.

AIARE Avalanche Level 1 PLUS


Dec 27-30, 2008

(Sat-Tue)




Jan 30 - Feb 2, 2009

(Fri-Mon)




Mar 7-10, 2009

(Sat-Tue)









Improve your Skiing!


Take your skiing
to the next level with our many telemark and alpine ski improvement courses. If anyone can help you improve, renowned instructors like Geoff Clarke, Lorenzo Worster, Eric DesLauriers, and Bela Vadasz ought to be able to share useful tricks. No matter what course you take, you will learn proven free-skiing technique for all conditions and terrain. Located at Sugar Bowl resort.

Advanced Telemark w/ Geoff Clarke


Jan 11, 2009

(Sun)




Feb 8, 2009

(Sun)




Mar 1, 2009

(Sun)



Telemark Freeride w/Lorenzo Worster


Dec 20, 2008

(Sat)




Jan 10, 2009

(Sat)



Telemark Freestyle w/Lorenzo Worster


Feb 14, 2009

(Sat)



Ski the Whole Mountain


w/ Eric DesLauriers' All Mountain Ski Pros




Jan 3-4, 2009

(Sat-Sun)




Jan 31 - Feb 1, 2009

(Sat-Sun)



Ski Extrême and Backcountry Steeps


w/ Bela Vadasz and Eric DesLauriers




Jan 17-18, 2009

(Sat-Sun)









Intro to Backcountry Skiing


Break away
from the lifts and "earn your turns." We'll introduce you to modern backcountry equipment, clothing, skinning techniques, avalanche awareness, and appropriate travel techniques.

Intro to Backcountry


Dec 27, 2008

(Sat)




Jan 3, 2009

(Sat)




Jan 10, 2009

(Sat)




Jan 24, 2009

(Sat)




Jan 31, 2009

(Sat)




Feb 21, 2009

(Sat)




Mar 14, 2009

(Sat)




Mar 21, 2009

(Sat)









Ski Mountaineering Techniques



Take your skiing to
the outer limits by adding the technical know how of alpinists. We cover the use of ice axe for security while climbing or as a belay tool, crampons for ascending steep, or icy snow, rope for glacier travel, or skiing on belay, plus climbing skills for mountains of steep, deep, wicked fun.

Ski Mountaineering Techniques


Jan 25, 2009

(Sun)




Feb 15, 2009

(Sun)




Mar 1, 2009

(Sun)




Mar 15, 2009

(Sun)









Dec 3, 2008



Skiers are prone to superstition, especially when it comes to predicting the weather. I've heard of some pretty unusual ceremonies soliciting favors from snow gods. It wouldn't be so funny if we didn't actually try to believe in the silly steps of our respective ritual snow dances because we want it to snow so bad.

After following the weather in the Sierra seriously for over 40 years, 20 of it living right at the notch where Pacific soaked clouds wring themselves out in the gap of the Sierra Crest known as Donner Pass I can vouch for the fact that Donner Pass has the highest recorded snowfall of any inhabited area in the world. With the Sierra, it can be feast or famine for snowfall. When it snows, it's a feast. Before then it feels like a fast.

So how to judge the current conditions? I like to look at the season by the rule of thirds; early, middle and late. There are patterns for each, but they seem to act independent of each other. There is no recorded history of a correlation in a trend in any of these thirds on the final outcome for the season. Besides, it isn't just snow depth, but the experience you have in the mountains that matters. You never know up front whether your best memories will be made in the sublimity of powder, or the providence of time and the place. It's like taking a great picture. The key is to be there to even take the shot, not sitting at home wishing you were out there.

When you're ready to take your mountaineering to a new level, let us know. If snow is scarce, alpinists know that ice is not. Check out the courses we offer in Winter Mountaineering, or maybe just experience it in a mixed alpine climb up Casaval Ridge on Mt. Shasta.

Until we meet on snow, here is a partial list of the many courses we offer this winter.







Casaval Ridge, Mt. Shasta


Moving in and out of gendarmes
delivers constant changes. Besides being challenging, the line up Casaval Ridge is aesthetically stunning as well, providing a birds eye view of the popular Avalanche Gulch on one side, and the less popular Hidden Valley and Shastina on the other. Expect to hone your ice-axe and crampon skills, and learn a few snow camping tricks while you're at it. For more info, click here.







2-Day Freeride with All Mountain Ski Pros


Take on the whole mountain,
with coaching from freeriding legend Eric DesLauriers' All Mountain Ski Pros, frequent focus of film and author of "Ski the Whole Mountain." Learn the subtleties of adapting to conditions, whether funky or freaky and ripping wherever your tips lead you, transforming places you avoid to places you enjoy. Register for your space here.







Steep Camps


For the ultimate backcountry
thrill - skiing extremely steep couloirs - you need huevos and skill. Our Steep Camps will hone your skiing skills on steep terrain to give you the confidence and poise you need. Learn proper techniques for ascending and descending, where mistakes are not suffered lightly.

Buttermilk Steep Camp


Apr 25-26, 2009

(Sat-Sun)



Mt. Shasta Steep Camp


May 2-3, 2009

(Sat-Sun)




May 9-10, 2009

(Sat-Sun)



Palisades Ski Extrême


May 16-19, 2009

(Sat-Tue)









Nov 17, 2008



Historically the big snow years in California start early and end late. If that is true, then the signs are looking good for the coming ski season. Twice already the peaks around Lake Tahoe have been painted white, and there is still enough snow to make turns if you hike and turn gingerly.

Just last week I snuck away for a day at Mammoth with my two sons. The oldest, Tobin said he couldn't remember when he had ever skied snow so soft. That comment would seem appropriate in February, but this was Veteran's Day. Heck, in the last decade skiing off the top of Mammoth is rare even before Christmas, let alone before Thanksgiving. While it's too soon to know for sure, this early season snow is certainly cause for celebration, or at the least, a good reason to wax your skis in anticipation.

While you're waiting for the wax to dry on your skis, take a moment to check out some of the courses we are offering this season.







The European Haute Route


This is THE
classic ski tour of the world. Imagine skiing across the roof of Europe, from Frances' Chamonix Valley, the capitol of world alpinism, to Zermatt, at the foot of the majestic Matterhorn. Each night we lodge in a different hut, enjoying international camaraderie. By day we ski across glaciers, though passes, bagging peaks and skiing their flanks to the next nights lodge. Seven days of spectacular mountain beauty and culture; unquestionably the trip of a lifetime, and one worth repeating. More details here.

European Haute Route


Mar 30 - Apr 7, 2009

(Mon-Tue)




Apr 20-28, 2009

(Mon-Tue)

(Tahoe Locals & Friends)










Bela Vadasz Awarded for Lifetime Achievement


During the recent annual meeting of the American Mountain Guides Association (AMGA)
in Smith Rock, Oregon, during October 2008 Bela Vadasz was presented with a Lifetime Achievement Award.

In presenting the award, Rob Hess, the AMGA's Technical Director pointed out, "Bela started the ski program which was the crux of the AMGA being admitted into the IFMGA. Without his vision and perspiration, the AMGA wouldn't be where it is today." Bela started and remains the technical director of the AMGA's ski program, and was one of the first two guides to be internationally certified through the program he started.

Through ASI, Bela and Mimi Vadasz have guided throughout the world. Mimi is one of the few American women to summit Everest. Together they completed the first ascent of the Puterey Ridge on Mont Blanc, the longest alpine route in the Alps. They completed the first Nordic ski descent of Denali.

In accepting the award, Bela G. Vadasz began by reflecting on the goals of the program. He said, "When we started this, it wasn't really for our generation. It was for the future. We knew that we wanted American guides to be better than we were. But that future is now. Just look at everybody in this room."

Read the full story as first announced on WildSnow.com





We look forward to skiing with you and helping you achieve your goals. If you can't find the answer to a question on our website, don't hesitate to give us a call.