Upcoming Programs

Conditions Updates

Tech Tips


Mimi Vadasz
Adminstrative Director
AMGA Certified
Ski Mountaineering Guide


Bela G. Vadasz
Technical Director
IFMGA Certified Guide
Jan 20, 2009
Friends of ASI


The usual January high pressure has made California it's home for the past three weeks, but that never lasts. So cross your fingers, do the snow dance, and get ready for fresh powder.

In the meantime, warm days and cold nights have created spring skiing conditions on south and western aspects. Northern slopes still have cold snow, and crust reigns on the east. In times like these, east is least, west is best. However, those same conditions are also creating superb ice climbing. If you've ever wanted to try ice climbing, the timing couldn't be better.

It is also a good time to think about honing your skiing skills, whether that means expanding your repertoire of tricks, or learning new ones. Or maybe you want to round out your climbing skills and be better prepared for winter ascents.

Whatever your interests, if it involves climbing or skiing in the mountains, we have a course to help you get started, or get better. We look forward to crossing paths with you if you come up this weekend. With or without us, ski safe and have fun.







Ice Climbing


Ever get the crazy
desire to climb vertical ice? It is one of the more exhilarating alpine experiences possible. On the one hand you're climbing a wall of one of the most slippery surfaces known, and it's cold. Yet your adrenaline is pumping and sweat pours from your hands as you defy gravity on a slippery slope. California also provides some of the best ice climbing anywhere, and best of all, it's easy to get to.

Winter Frozen Waterfall Ice Climbing


Feb 28 - Mar 1, 2009

(Sat-Sun)









Improve your Skiing!


Take your skiing
to the next level with our many telemark and alpine ski improvement courses. If anyone can help you improve, renowned instructors like Geoff Clarke, Lorenzo Worster, Eric DesLauriers, and Bela Vadasz ought to be able to share useful tricks. No matter what course you take, you will learn proven free-skiing technique for all conditions and terrain.

Advanced Telemark w/ Geoff Clarke


Feb 8, 2009

(Sun)




Mar 1, 2009

(Sun)



Telemark Freeride w/Lorenzo Worster


Call



Telemark Freestyle w/Lorenzo Worster


Feb 14, 2009

(Sat)



Ski the Whole Mountain


Jan 31 - Feb 1, 2009

(Sat-Sun) *Womens Camp




Feb 28 - Mar 1, 2009

(Sat-Sun)









Ski Mountaineering Techniques


Take your skiing to
the outer limits by adding the technical know how of alpinists. We cover the use of ice axe for security while climbing or as a belay tool, crampons for ascending steep, or icy snow, rope for glacier travel, or skiing on belay, plus climbing skills for mountains of steep, deep, wicked fun.

Ski Mountaineering Techniques


Jan 25, 2009

(Sun)




Feb 15, 2009

(Sun)




Mar 1, 2009

(Sun)




Mar 15, 2009

(Sun)










Winter Mountaineering


Winter adds extra
elements for mountaineers to revel in. During this three-day seminar we'll cover important snow climbing skills that will evolve to steeper ice including glacier travel and crevasse rescue. We'll finish the course with a climb of a neighboring peak from a snow-camp bivouac. If you are planning a big climb to a great range, this is a great course to develop your skills.

Winter Mountaineering


Mar 14-16, 2009

(Sat-Mon)









Intermediate Backcountry Skiing


This is a perfect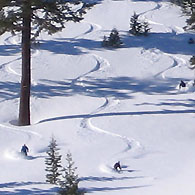 follow up to our Intro to Backcountry Skiing day, or for those with a little, but not a lot of backcountry experience. We'll cover important elements of group dynamics, tour planning, hazard assessment, even a lil' ski coaching to maximize the fun factor.

Intermediate Backcountry Skiing


Jan 25, 2009

(Sun)




Feb 1, 2009

(Sun)




Feb 22, 2009

(Sun)




Mar 15, 2009

(Sun)




Mar 22, 2009

(Sun)







We look forward to skiing with you and helping you achieve your goals. If you can't find the answer to a question on our website, don't hesitate to give us a call.

Sincerely,
Bela & Mimi Vadasz
Directors
Alpine Skills International
530-582-9170